Lost 2,200-year-old temple discovered in Egypt
Posted on Friday, 4 October, 2019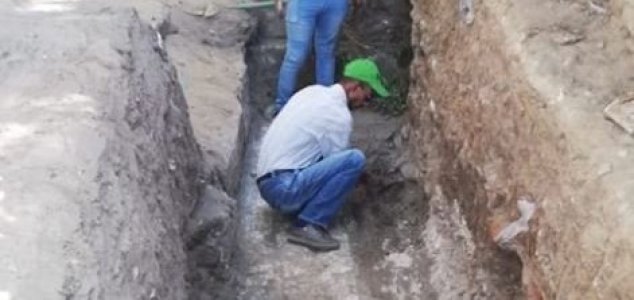 The site was found during routine drilling work. Image Credit: Facebook / Egypt Ministry of Antiquities
Archaeologists have announced the discovery of an ancient temple linked to the pharaoh Ptolemy IV.
The ruined structure was unearthed quite by accident during drilling work on a sewage drainage project in the village of Kom Shakau back at the beginning of September.
"The work at the drilling site was suspended and an archaeological team has been assigned to recover the ruins," said Mostafa Waziri, Secretary-general of the Supreme Council of Antiquities.
Further excavations at the site have since unveiled stone inscriptions referencing Ptolemy IV who was the fourth Pharaoh of Ptolemaic Egypt from 221 to 204 BC.
You can view a selection of photographs from the site below (
or click here
).
Ministry of Antiquities وزارة الآثار
last Sunday
الكشف عن أطلال معبد بطليموس الرابع اثناء حفائر الإنقاذ بكوم شقاو بسوهاج:
كشفت حفائر الإنقاذ التي قامت بها بعثة أثرية من وزارة الآثار بمنطقة كوم شقاو بمدينة طما شمال سوهاج عن بقايا معبد للملك بطليموس الرابع، والتي تم الكشف عن بعض احجاره اثناء أعمال الحفر الخاصة بامداد خطوط للصرف الصحى بالقرية فى أوائل سبتمبر2019.
صرح بذلك د.مصطفى وزيري الأمين العام للمجلس الأعلي للآثار موضحاً انه تم علي الفور توقف اعمال الحفر لإمداد مواسير الصرف الصحى فى تلك البقعة وتم تكليف فريق عمل من وزارة...
See More
https://www.unexplained-mysteries.com/news/331021/lost-2200-year-old-temple-discovered-in-egy
Thanks to: https://www.unexplained-mysteries.com