'Cosmic web' observed for the first time
Posted on Sunday, 6 October, 2019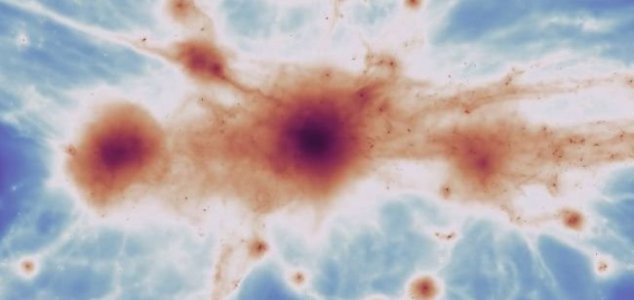 Galaxies are connected by faint filaments of gas. Image Credit: Joshua Borrow using C-EAGLE
Scientists have revealed the first photograph of a universe-spanning network of intergalactic filaments.
Known as the cosmic web, this previously unseen highway is made up of gigantic filaments of gas (mostly hydrogen left over from the Big Bang) which bridge the void between galaxies.
It is thought that the web contains as much as 60% of all the gas in the universe.
Actually observing these filaments directly however has long proven a challenge because they are incredibly faint and easily overshadowed by the intense glow of the galaxies around them.
Now though, scientists have finally been able to piece together the first photograph of these cosmic structures converging on a distant galaxy cluster 12 billion light years away from Earth.
This feat was achieved using the Multi Unit Spectroscopic Explorer instrument on the European Southern Observatory's Very Large Telescope in Chile.
"The main obstacle to see the filaments is their faintness," said study lead author Hideki Umehata.
"To circumvent this, one can turn to a region where the filaments are much brighter than the usual case. In this work, we focus on a core of the protocluster where a number of star-bursting galaxies illuminate the filaments."
Related stories:


Mysterious star is 'older than the universe'

[8-10-2019]




Universe expansion rate mystery deepens

[7-18-2019]




Experiment seeks evidence of 'mirror universe'

[7-4-2019]




The universe is expanding faster than it should

[4-26-2019]




Quasar has brightness of 600 trillion suns

[1-10-2019]




https://youtu.be/wJ_M8iGw7N4
https://www.unexplained-mysteries.com/news/331075/cosmic-web-observed-for-the-first-time
Thanks to: https://www.unexplained-mysteries.com