Canada's Shag Harbour UFO mystery turns 52
Posted on Monday, 7 October, 2019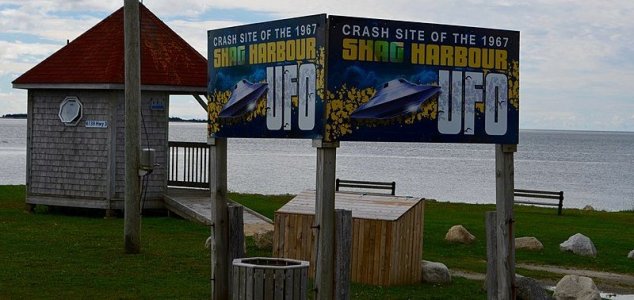 The site of the incident is now marked with a sign. Image Credit: CC BY-SA 4.0 SnowyBadger
A new coin has been released to mark the anniversary of one of Canada's most enduring UFO mysteries.
The incident, which occurred on October 4, 1967, involved multiple witnesses who saw a well-lit saucer-shaped object descend from the sky into the ocean a short distance from the shoreline.
"We saw lights in the sky and just thought it was an airplane and after a while as we [were] going up the road the lights went from flying level to going down to a 45 degree angle," said Laurie Wilkens, one of a dozen people who reported their sighting to the Royal Canadian Mounted Police that night.
When officers arrived at the scene they witnessed the object, which was estimated to be around 18 meters in diameter, floating on the water with its lights still flashing.
"Unlike so many cases, the UFO hung around and it was still there and they watched it maneuver on the water," said Chris Styles, an author who has written two books about the incident.
"They attempted to reach it [however] before they could the object either submerged or disappeared."
Despite extensive efforts by Canadian Navy divers to locate the object on the sea floor, no trace of it was ever found and the incident was ultimately dismissed as unexplained.
Now in celebration of the 52nd anniversary of the mystery, the Royal Canada Mint has released a new glow-in-the-dark coin depicting the moment the object was sighted by witnesses near the shoreline.
"You try and cover the full spectrum of the Canadian experience and these oddball stories are part and parcel of that fabric," said mint spokesman Alex Reeves.
https://youtu.be/-wjgwP_N3oM
https://www.unexplained-mysteries.com/news/331094/canadas-shag-harbour-ufo-mystery-turns-52
Thanks to: https://www.unexplained-mysteries.com