Scottish police left baffled by mystery symbols
Posted on Tuesday, 8 October, 2019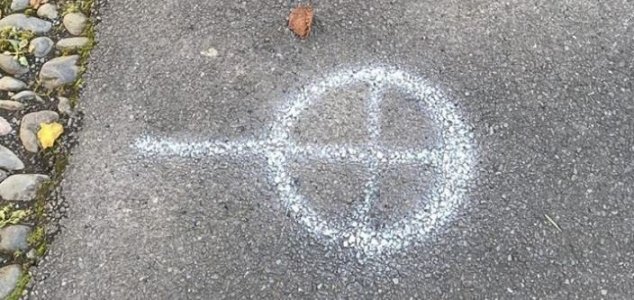 What does this symbol mean ? Image Credit: Facebook / Dumfries Galloway Police Division
Unexplained markings that have appeared on pavements around Thornhill have left officers scratching their heads.
Police in the Dumfries and Galloway area have appealed to the public for assistance after failing to find an explanation for the curious symbols which resemble a circle with a line through the middle.
Officers had approached several Scottish water, gas and electricity companies to ask if they had anything to do with the symbols however their investigation has so far come up empty.
The mytery has even lead to tongue-in-cheek suggestions of extraterrestrial intervention.
"Over the last few days these symbols have appeared in the streets of Thornhill, causing a few people to be concerned," the Dumfries and Galloway Police Division wrote on Facebook.
"Do any of you know what they are, or are we going to have to put it down to extraterrestrial life finally making contact with us basic earthlings who just don't understand what they are trying to say?"
Several more photographs of the mysterious symbols can be viewed below.
https://www.unexplained-mysteries.com/news/331127/scottish-police-left-baffled-by-mystery-symbols
Thanks to: https://www.unexplained-mysteries.com