The terrifying creatures of sleep paralysis
Posted on Thursday, 10 October, 2019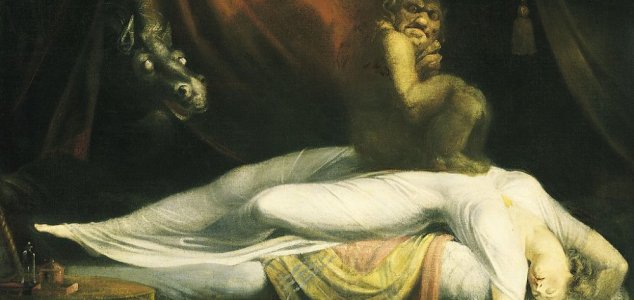 Sleep paralysis can be a deeply unnerving experience. Image Credit: John Henry Fuseli
During sleep paralysis, the experiencer can hallucinate all manner of strange entities in the room with them.
Have you ever found yourself in a half-waking state, either while falling asleep or waking up, and completely unable to move or cry out no matter how hard you try ?
Known as sleep paralysis, this distressing experience is thought to occur when a person is stuck in a transitional state between wakefulness and sleep. The inability to move is thought to be due to the muscle atonia normally induced during REM sleep to stop us physically acting out our dreams.
To make matters worse, some people also experience hallucinations while paralyzed which can include seeing an ominous figure in the room and feeling a strong sense of presence.
In some of the worst cases, this intruder can be seen and felt physically climbing on top of the helpless experiencer, resulting in a crushing sensation on the chest and difficulty breathing.
Exactly what form this terrifying visitor might take can depend heavily on the specific cultural background and spiritual beliefs of the experiencer.
In the western world, one of the most common hallucinations is that of an old woman or 'old hag.' Visions of demons, angels and even extraterrestrial visitors are also not unheard of.
In Japan, experiencers are often visited by the 'Kanashibari' - an ancestral spirit. In Thailand, the phenomenon is known as 'Phi um' which means 'being enveloped by a ghost.'
In Mexico, the term 'se me subio elmuerto' is used, meaning 'a dead body climbed on top of me.'
In Brazil, the 'old hag' takes the form of a 'Pisadeira' - a horrific old crone with very long fingernails.
Cambodia's 'SP/HH' or 'the ghost pushes you down' is particularly disturbing as it is said to take the form of individuals who were murdered during the Khmer Rouge regime.
There are also the 'Cheyne' - three humanoids with fur and long fangs - who hover over the bed.
Whichever country you might be from however - please, don't have nightmares...
Source: Dreamstudies.org

https://www.unexplained-mysteries.com/news/331185/the-terrifying-creatures-of-sleep-paralysis
Thanks to: https://www.unexplained-mysteries.com