NASA unveils new Artemis spacesuit prototypes
Posted on Wednesday, 16 October, 2019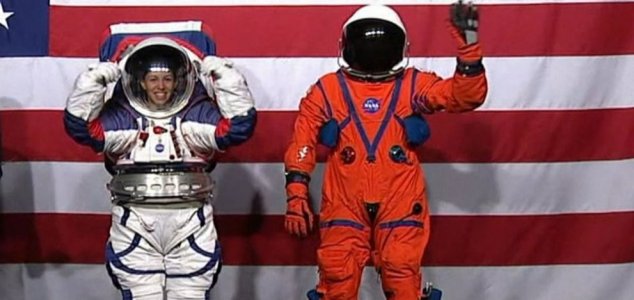 Two new spacesuits for the Artemis era. Image Credit: NASA
Keen to meet its 2024 deadline for returning to the Moon, NASA has unveiled its first new spacesuits in 40 years.
At an event held at the agency's Washington, D.C. headquarters yesterday, two new suits - one for wearing inside a spacecraft and one for outside - were demonstrated on stage.
The new designs represent a major improvement over the suits worn by Neil Armstrong and his fellow Apollo astronauts when they walked on the lunar surface back in the 1960s and 1970s.
Built using modern materials and techniques, the new suits are much more flexible and, unlike the current spacesuits used for ISS spacewalks, can be worn by any astronaut regardless of size.
"This is the first suit we've designed in about 40 years," said NASA's Chris Hansen. "What you saw today was a prototype of the pressure garment. The life support system is back in a lab in Houston."
"We want systems that allow our astronauts to be scientists on the surface of the Moon."
NASA's current objective is to return humans to the lunar surface within as little as 5 years, however it remains increasingly uncertain whether or not this will actually be achievable.
If it succeeds, it will be the first time humans have walked on another world in over 50 years.
https://youtu.be/7DD11eu7d2Y
https://www.unexplained-mysteries.com/news/331292/nasa-unveils-new-artemis-spacesuit-prototypes
Thanks to: https://www.unexplained-mysteries.com