Britain's twelve most haunted roads revealed
Posted on Monday, 21 October, 2019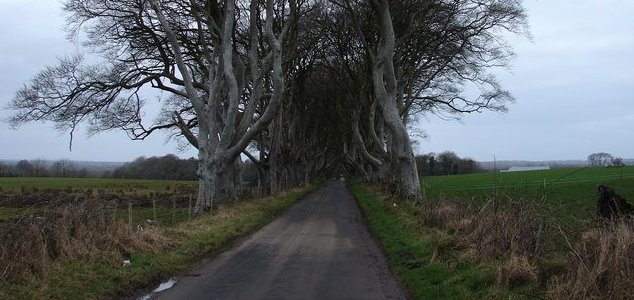 Keep your eyes on the road... Image Credit: CC BY-SA 2.0 Ian Paterson
Motoring experts have compiled a list of twelve sinister roadways with a penchant for paranormal activity.
As if driving in the dark wasn't disconcerting enough, some of Britain's roads have a reputation for sightings of ghostly figures, tales of phantom hitchhikers and many other strange phenomena.
The road up
Blue Bell Hill in Kent
is one such place. Here, drivers have reported seeing a ghostly woman in a white dress who some believe to be the ghost of a woman who was killed in 1965.
During the construction of
Stockbridge Bypass, Sheffield
in 1988, two security workers reported seeing young children playing in the middle of the construction site. When they moved closer to investigate however, the youngsters disappeared into thin air leaving no trace or footprints.
The
M6 Motorway
- which lies on a well-trodden route dating back 2,000 years - is well known for its ghostly sightings of Roman soldiers crossing the road only to vanish mysteriously from sight.
Other roads to make the list include the
B519 by The Spaniard's Inn, Hampstead
which is said to be haunted by a phantom highwayman, and the
A666, 'Devil's Highway' in Bolton
, which has been linked to sightings of a mysterious hunchback as well as other ghostly phantoms and figures. 
A phantom train has been sighted along
Dundee's Old Tay Bridge
, while
Platt Lane, Lancashire
is supposedly haunted by the ghosts of miners who died in a nearby accident.
The A636 in Wiltshire
has been linked to sightings of a ghostly girl named 'Sally in the Woods', while the
B1249
is said to be home to a red-eyed, hairy creature which tried to break into a passing car.
The
A3 near Burpham, Surrey
was the site of a tragic car accident which the police only found out about after the ghostly visage of the driver was seen careening off the road some five months later.
London's
Cock Lane
is home to a notoriously haunted house, while Scotland's
Electric Brae
is famous for it's gravity-defying hill that sees cars rolling up it rather than down.
"Whether you believe in ghosts or not, the stories alone are enough to send a chill down your spine," said Tim Alcock of LeaseCar.uk which compiled the list.
Source: The Scarborough News

https://www.unexplained-mysteries.com/news/331409/britains-twelve-most-haunted-roads-revealed
Thanks to: https://www.unexplained-mysteries.com