Thousands of Hong Kongers March Despite Police Ban, Days After Assault on Prominent Activist
Date: October 21, 2019Author: Nwo Report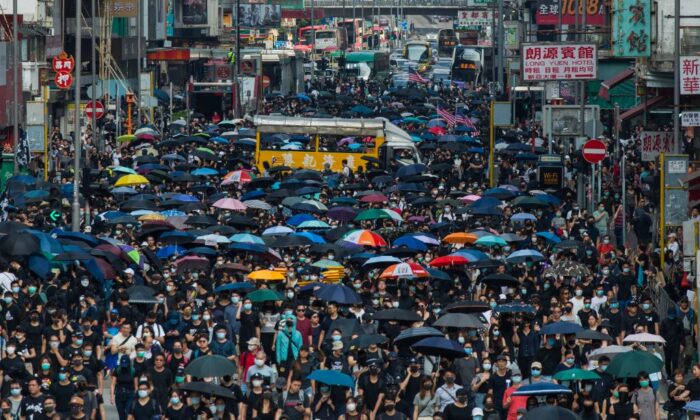 Source: EPOCH TIMES
Thousands of Hong Kongers took to the streets in the afternoon on Oct. 20 despite a police ban just days after a prominent activist was brutally attacked by thugs who are still at large.
The march's participants, many of them dressed in black while some holding an umbrella, set off from Salisbury Garden in Tsim Sha Tsui at around 1:30 p.m. local time. One hour later, the first section of the march arrived at the destination, West Kowloon Station, which is about 1.5 miles away.
Protesters could be heard shouting slogans such as "five demands, not one less" and "Hong Kongers Resist."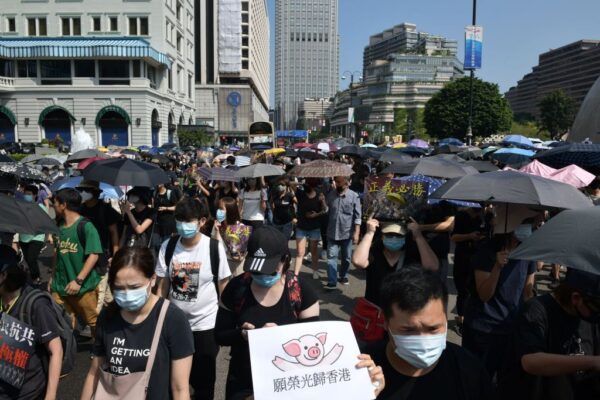 People take part in a pro-democracy march in the Tsim Sha Tsui district in Hong Kong on Oct. 20, 2019. (Ed Jones/AFP via Getty Images)
The march was originally planned by the Civil Human Rights Front (CHRF), the organizer behind some of the city's biggest protests to date. But the group lost an appeal against a police ban on Oct. 19. According to Hong Kong media, police prohibited the march citing fears of violence.
CHRF planned the march to call for the abolition of a controversial anti-mask law, which Hong Kong leader Carrie Lam put in place on Oct. 4 after she invoked a colonial-era emergency law. The law bans people from wearing facial masks during large public gatherings.
Four activists decided to lead the march despite the police ban, facing the possibility of being arrested by the police. The four were Figo Chan, 22, deputy convener at CHRF; Leung Kwok-hung, 63, of the League of Social Democrats; Albert Ho, 68, former chairman of the Democratic Party and current chairman of the Hong Kong Alliance in Support of Patriotic Democratic Movements in China; and Cyd Ho, 65, vice chairman of the Labour Party.
At the time of writing, CHRF has not released estimates of the number of people taking part in the march.
Prior to the march, organizers had been unsure about how many people would join, given that CHRF's convener Jimmy Sham, 32, was brutally attacked by thugs wielding arms on Oct. 16, leaving him in a pool of blood on the sidewalk. According to CHRF, the attackers targeted Sham's head, knees, and elbows during the assault.
Thanks to: https://nworeport.me