Mystery Moon 'gel' revealed in new photograph
Posted on Wednesday, 23 October, 2019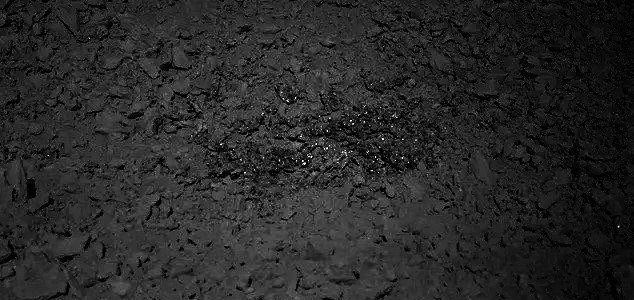 A high contrast image of the mystery substance. Image Credit: CNSA/CLEP/NASA/GSFC/Dan Moriarty
China has published a new image showing the strange substance found by Yutu-2 on the dark side of the Moon.
Situated within the 2,500km-wide South Pole-Aitken basin, the rover, which landed on the Moon as part of China's groundbreaking Chang'e 4 mission back in January, first noticed the anomalous gel after spotting a shining object while trundling across the lunar surface.
Exhibiting a shape and color that stands out against the surrounding regolith, the gel has been described as having "a mysterious luster" and is situated right in the middle of an impact crater.
Now in a renewed effort to get to the bottom of the mystery, China's space agency has released a new photograph showing the anomalous substance in more detail.
One possible explanation is that the substance could be a type of dark glass that forms during an asteroid impact - the same glass previously seen by the Apollo 17 astronauts back in 1972. 
"The shape of the fragments appears fairly similar to other materials in the area," said NASA Postdoctoral Program fellow Dan Moriarty who has conducted a detailed analysis of the image.
"What this tells us is that this material has a similar history as the surrounding material. It was broken up and fractured by impacts on the lunar surface, just like the surrounding soil. "
"It appears to have brighter material embedded within the larger, darker regions, although there is a chance that is light glinting off a smooth surface."
If China's rover can get an even closer look at the substance when it wakes up from its next two-week lunar night cycle, it may be possible to solve this mystery once and for all.
Source: Space.com

https://www.unexplained-mysteries.com/news/331466/mystery-moon-gel-revealed-in-new-photograph
Thanks to: https://www.unexplained-mysteries.com