THE DEEP STATE IS ASSASSINATING JULIAN ASSANGE
Date: October 26, 2019Author: Nwo Report  
This article was originally published by Aaron Kesel at Activist Post.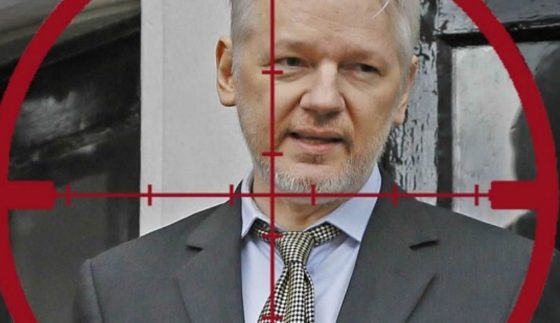 Source: Activist Post
WikiLeaks founder and journalist Julian Assange appeared in court to fight his extradition to the United States, sluggishly reciting his name and date of birth in a zombie-like state — displaying signs of either sleep deprivation, torture or poisoning — but quickly recovered to state the rigged case against him to the judge when he was asked if he understood what he was facing.
Assange responded, appearing to fight back tears at his case management hearing, "I can't think properly, I don't understand how this is equitable. This superpower had 10 years to prepare for this case and I can't access my writings. It's very difficult where I am to do anything but these people have unlimited resources." The WikiLeaks founder added, "They are saying journalists and whistleblowers are enemies of the people. They have unfair advantages in dealing with documents. They know the interior of my life with my psychologist. They steal my children's DNA. This is not equitable what is happening here?"
Assange was also denied a 90-day extension to prepare his defense as governments rig yet another case against the WikiLeaks journalist, proving the death of real justice and right to a fair trial in the UK is corroborated with the death of journalism and ethics. In other words, the cards are stacked against Assange; the state has committed numerous illegal moves, yet the man's defense can't do anything because the state isn't playing by the rules by showing a total bias, court action after court action.
Westminster Magistrates' Court district judge Vanessa Baraitser further highlighted that rigging by adhering to the behest of government prosecutor James Lewis QC who was firmly against the judge giving Assange any extra time to prepare his case, as 
The Guardian
 reported.
As 
The Canary
 reports:
Clearly, the full weight of the British and US state apparatus is bearing down on the WikiLeaks founder in this extradition case. That was made explicitly clear in a statement by Nils Melzer, the UN special rapporteur on torture, in May. He urged the UK not to extradite Assange to the US, saying:
In 20 years of work with victims of war, violence and political persecution I have never seen a group of democratic States ganging up to deliberately isolate, demonise and abuse a single individual for such a long time and with so little regard for human dignity and the rule of law.
Assange's legal team also accused the U.S. of attempting to "kidnap and harm" the WikiLeaks founder and used that as reasoning for delaying the trial, 
Sky News
 reported.
Mark Summers, one of Assange's lawyers, described the extradition bid as "a political attempt" by Donald Trump's administration to "signal to journalists the consequences of publishing information."
"It is legally unprecedented," he told the court.
Summers further claimed the U.S. had "intruded" on conversations between Assange and his lawyers while he was in the Ecuadorian embassy, and the intrusions included "hooded men breaking into offices."
This is something similar to what we saw with the raiding of the Head Legal Office in Madrid of former judge and WikiLeaks' chief counsel, Baltasar Garzón in December 2017. Garzón's office was raided by masked men dressed in all black and the security cameras were taped. Despite the break-in, nothing was taken and the operation was referred to as being "professionally done" by police.
In January of this year, police began questioning associates of WikiLeaks worldwide offering immunity to testify against Assange.
ASSANGE'S HEALTH CONDITION
Earlier this year, a crazy claim took the internet by storm made by a retired USAF lieutenant colonel Karen Kwiatkowski who wrote that they are "treating Assange with the Zombie drug BZ (3-quinuclidinyl benzilate) to kill his brain cells" according to an insider source. Whereas at the time that statement sounded insane, the display in court by Assange may warrant looking at that claim again with a fresh view. This information may be shocking to some, but journalist Danny Casolaro who stood against The Octopus (DEEP STATE) was killed by a toxic poison that was injected into his spine, then his wrists were sliced 12x on each hand. We also know from former CIA employee Mary Embree that the infamous heart attack gun exists and the agency was researching other silent assassination slow kill methods, so that possibility isn't as crazy as it all may sound.
A source who claims to have seen the WikiLeaks founder described Assange as "out of it and in a zombie-like state." Russian news station RT corroborated this claim, showing Assange in a police transportation van appearing to show a weakened state of health in just his physical appearance.
VIEW VIDEO HERE: https://nworeport.me/2019/10/26/the-deep-state-is-assassinating-julian-assange/
Thanks to: https://nworeport.me