Creepy 'haunted doll' sells on eBay for $5,600
Posted on Tuesday, 29 October, 2019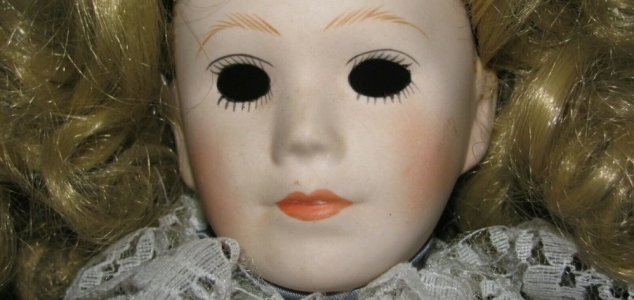 Would you buy this for any amount of money ? Image Credit: eBay / terris145
Some people are willing to spend extraordinary amounts of money for objects that they believe to be haunted.
It is possible to find just about anything on eBay and objects with a paranormal past are no exception.
In recent years the practice of buying and selling 'haunted' objects such as dolls, teddy bears, items of furniture and other spooky accessories has been proving remarkably popular.
Most are accompanied by tales of curses, occult practices and paranormal phenomena.
The price that some of these objects can sell for is a mystery in of itself - just recently a supposedly haunted doll with 'paranormal power' sold for an eye-watering $5,600 after 15 bids.
"Anna is not a toy to play with if you know what I mean," the seller wrote. "This one came from an estate sale here in Kentucky ,and I was told that there was a 94 year-old woman that lived here at this estate sale and that she had passed away. They also told me that she was into some kind of Wicca witchcraft and from looking at all the spooky things in the home I was sure she was very much into it."
"I am sure that the spirit that has attached herself to this vessel is from the early 1800s." 
Another item - a 'vintage haunted plush teddy bear' - recently received bids of up to $560.
"This bear was found in the closet of an elderly woman's home," the listing reads. "She has no children or close family. She has no idea where this came from or how it got there."
Other similar items on sale on the popular auction site include a 'paranormal clown', a pile of 'haunted bones' and even samples of 'demon ash' alleged to be left over from a 'spirit summoning'.
Given the sums of money involved, it stands to reason that many listings of this nature have been put together for the purpose of making a quick buck.
It is unclear how many of them are from people who genuinely believe the items to be paranormal.
Whatever your personal beliefs might be, it would certainly be worth thinking twice before dropping money on anything 'haunted' on eBay, especially at this time of the year.
Source: New York Times

https://www.unexplained-mysteries.com/news/331593/creepy-haunted-doll-sells-on-ebay-for-5600
Thanks to: https://www.unexplained-mysteries.com