Ancient book fragments unearthed in Egypt
Posted on Monday, 4 November, 2019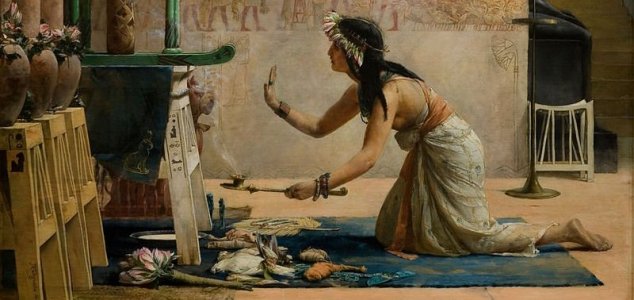 The ancient text is thought to hold religious significance. Image Credit: John Reinhard Weguelin
Archaeologists have discovered the remains of what is thought to be one of the oldest books ever written.
A recent article published by the University of Leuven in Belgium describes how an archaeological team led by professor of Egyptology Harco Willems discovered multiple fragments of an ancient Egyptian 'book' dating back to 2040 BC in a sarcophagus at a burial site in Dayr al-Barsha.
While it has proven difficult to determine the exact nature of the complete tome, the fragments feature a collection of ancient drawings and incantations pertaining to ancient Egyptian deities including the story of the journey from darkness to Osiris - god of the afterlife. 
Two curved sinuous lines that run through the book are believed to represent the two roads that lead the newly deceased through the dangers of the underworld to the safety of the afterlife.
"One of the fragments represents the ship of the sun god Ra, towed by a sled, and another presents a text in which the owner of the grave identifies himself with the sun god," said Willem.
The discovery was made inside the sarcophagus of a noblewoman named Ankh.
Due to the damaged state of the fragments however, many of them may ultimately remain a mystery.
Source: Brussel Times

https://www.unexplained-mysteries.com/news/331756/ancient-book-fragments-unearthed-in-egypt
Thanks to: https://www.unexplained-mysteries.com