Mercury set for rare transit of the Sun tomorrow
Posted on Sunday, 10 November, 2019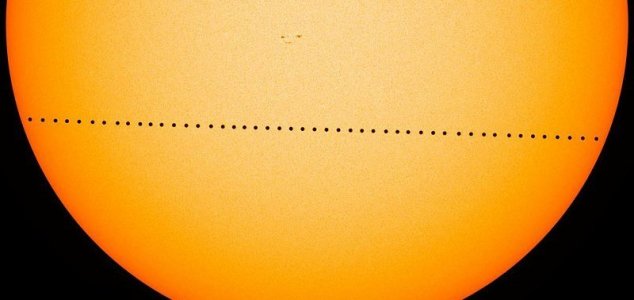 This image shows the path Mercury took during its 2016 transit of the Sun. Image Credit: NASA
This spectacular celestial event, which only happens a few times per century, will be visible for 5.5 hours.
Skywatchers will be turning their attention towards the Sun on Monday as the planet Mercury - the closest world to our star - will be crossing its disk for the first time since 2016.
After the event is over, another Mercury transit will not occur again until the year 2032.
During the 5.5 hours Mercury will take to cross the Sun's disk, the transit will be visible across most of the world with the exception of Japan, Indonesia, Australia and parts of Asia. 
It will begin before sunrise in western North America and end after sunset in Europe and Africa.
The entire thing will be visible for those living in the eastern parts of North America.
If you want to see the transit for yourself however it's important not to look directly at the Sun or to look at it through binoculars. Instead, use a telescope with a solar filter or watch a livestream online.
A video explaining the transit in more detail can be viewed below.
https://youtu.be/31HAFceuvb0
https://www.unexplained-mysteries.com/news/331917/mercury-set-for-rare-transit-of-the-sun-tomorrow
Thanks to: https://www.unexplained-mysteries.com