Weird cloud formation sparks UFO speculation
Posted on Thursday, 14 November, 2019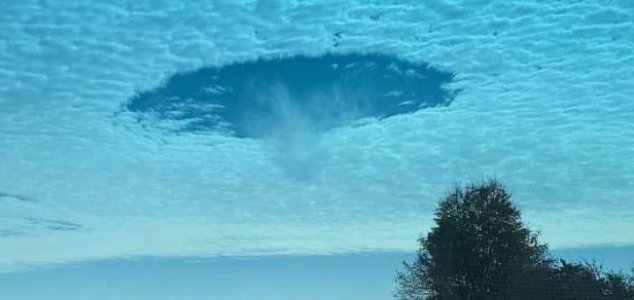 Is this a UFO, or something else ? Image Credit: Facebook / WBTV News / Phil Lambert
This large circular 'hole' in the clouds over North Carolina left social media users scratching their heads this week.
The phenomenon first gained attention on Monday when TV station WBTV posted a photograph of it on Facebook. The image had been taken by Phil Lambert on Old Mountain Road, Iredell County.
The peculiar nature of the image prompted a number of replies from users who noted that it looked as though a disc-shaped object had descended from the sky and punched a hole through the clouds.
Wisps of cloud wafting down from the center of the circle seemed to corroborate this explanation.
It turned out that others had seen it too, including Kathy Lynn Carlin of Collettsville who along with her husband observed the phenomenon at around 10am on Saturday around 65 miles from Charlotte.
But could this really be evidence of a UFO or is something else going on ?
According to weather experts, the spectacle is most likely what is known as 'hole punch cloud' - an atmospheric phenomenon that happens when 'super-cooled' water droplets turn into ice crystals after coming into contact with a plane passing overhead.
These crystals then fall from the sky and create a hole in the cloud that continues to expand.
The effect is something that has often been mistaken for a UFO.
https://www.unexplained-mysteries.com/news/332032/weird-cloud-formation-sparks-ufo-speculation
Thanks to: https://www.unexplained-mysteries.com