Large fireball UFO filmed over South Carolina
Posted on Wednesday, 4 December, 2019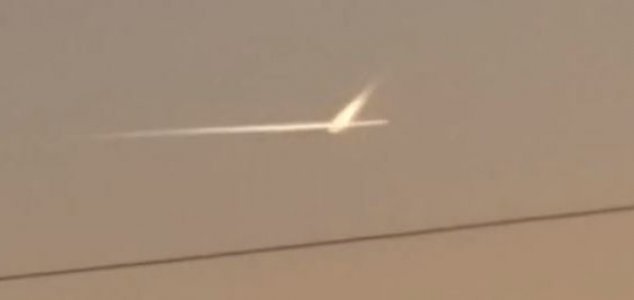 A still from the footage (which can be viewed below). Image Credit: YouTube / Kymberleigh Jordan
This large glowing object was spotted moving across the sky while intersecting the path of a passing airplane.
The footage was recorded by Kymberleigh Jordan who posted it up on YouTube on October 28th to ask if anyone had any idea what the unidentified object could be.
"Saw this on a drive in South Carolina," she wrote. "I have never seen anything like it before and would really like to know if anyone else knows what this is? I've seen falling stars, and they light up and disappear really fast. This object was moving, but barely."
"You can't even tell it is moving in this video but it was moving downward very slowly. " 
One of the most interesting things about the footage is that it also shows an airplane passing directly in front (or behind?) the unexplained object just after the 55-second mark on the video.
Several people have offered their own interpretations, with some suggesting that the object could be a comet or meteorite while others believe that it is more likely to be a rocket launch.
One person even suggested that the plane was there because it had been sent to investigate.
You can check out the video for yourself below - what do you think the object is ?
https://youtu.be/SQ1hRcLizGw
https://www.unexplained-mysteries.com/news/332671/large-fireball-ufo-filmed-over-north-carolina
Thanks to: https://www.unexplained-mysteries.com