NASA reveals Parker Solar Probe discoveries
Posted on Wednesday, 4 December, 2019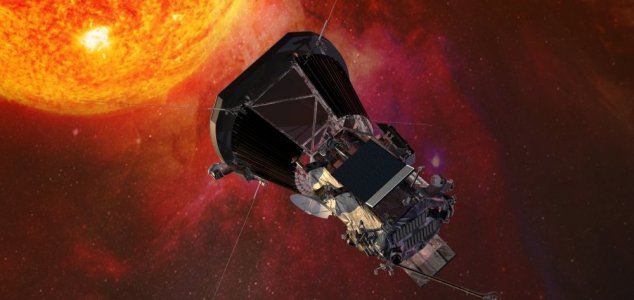 An artist's impression of the probe. Image Credit: Johns Hopkins University Applied Physics Laboratory
The groundbreaking solar probe has sent back its first observations from the edge of the Sun's atmosphere.
The ambitious spacecraft - a technical marvel in its own right - was launched last year and will spend a total of seven years orbiting our star while venturing within a mere 3.83 million miles of its surface.
Its name is a tribute to American solar astrophysicist Eugene Parker who originally predicted the existence of the solar wind, something that at the time was considered 'crazy' by his peers.
Now NASA has revealed the first of the probe's findings and it looks as though it has already provided data that could help to solve some of the Sun's most enduring mysteries.
"The first three encounters of the solar probe that we have had so far have been spectacular," said Prof Stuart Bale from the University of California. 
"We can see the magnetic structure of the corona, which tells us that the solar wind is emerging from small coronal holes; we see impulsive activity, large jets or switchbacks, which we think are related to the origin of the solar wind. And we are also surprised by the ferocity of the dust environment."
One of the things that the spacecraft aimed to investigate is the fact that, counter-intuitively, the temperature is actually much, much hotter in the Sun's atmosphere than on its surface.
The findings showed that this may be because the particles in the solar wind are released in explosive jets rather than in a steady stream.
The data has also revealed that the area close to the Sun is a lot dustier than expected, probably due to comets and other objects being vaporized and turned into a dusty haze.
You can check out the probe's full findings in the video below.
https://youtu.be/ReQAUocScw0
https://www.unexplained-mysteries.com/news/332695/nasa-reveals-parker-solar-probe-discoveries
Thanks to: https://www.unexplained-mysteries.com