ESA to launch space debris collector in 2025
Posted on Monday, 9 December, 2019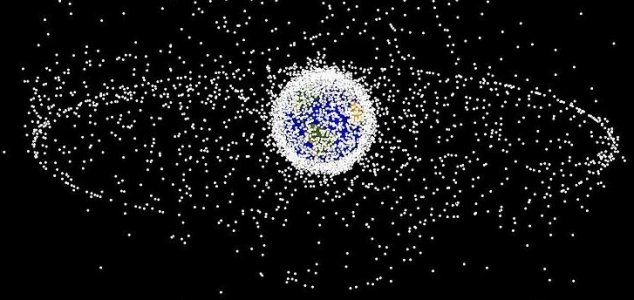 Our planet is surrounded by thousands of items of space junk. Image Credit: NASA
If successful, the mission will be the first ever to remove a piece of space junk from Earth's orbit.
Satellites and spacecraft are already running a daily gauntlet of spent rocket stages, screws, bolts and other objects that currently encircle our world. As time goes on, the problem will reach the point at which it will be too risky to send anything else up into space due to the risk of a collision.
As things stand, there are estimated to be more than 3,500 defunct satellites and as many as 750,000 smaller fragments of debris circling far above our heads with more being added all the time.
"Imagine how dangerous sailing the high seas would be if all the ships ever lost in history were still drifting on top of the water," said ESA's director general Jan Worner.
"That is the current situation in orbit, and it cannot be allowed to continue." 
Now in a renewed bid to tackle the problem, ESA is planning to launch a four-armed robotic spacecraft that will attempt to grab a single piece of debris and drag it out of orbit.
Known as ClearSpace-1, the mission will target a specific object known as Vespa which was left in orbit by ESA's Vega launcher in 2013. Once the spacecraft latches on it will drag the object back towards Earth where both will burn up in the planet's atmosphere.
While this might seem like a drop in the ocean given how much junk is up there, the endeavour will help to pave the way for more ambitious debris collection missions in the future.
Eventually, reusable rockets and satellites that de-orbit themselves once they have become defunct could help to significantly slow down the build-up of debris.
Until then however, keeping Earth's orbit clear of junk is going to be quite a challenge.
Source: The Guardian

https://www.unexplained-mysteries.com/news/332823/esa-to-launch-space-debris-collector-in-2025
Thanks to: https://www.unexplained-mysteries.com