UFO filmed dropping 'fireballs' over Arizona
Posted on Thursday, 12 December, 2019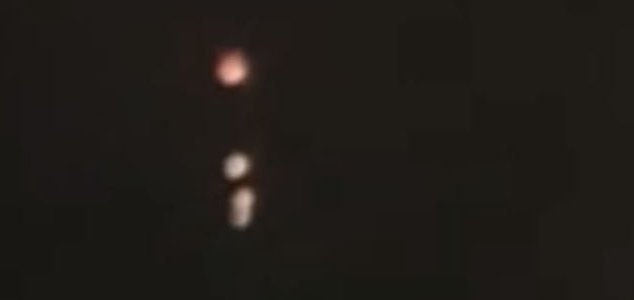 A still from the footage (which can be viewed below). Image Credit: Facebook / Kerri Burnett and Doug Maier
A couple from Mesa recently recorded footage of a mysterious object dropping glowing orbs over the city.
"I love to watch the skies," said Kerri Burnett who watched the spectacle with her fiance Doug Maier.
"It was a cloudy night and had drizzled off and on. Regular planes had been flying by since we can see the flight path for the airport. All of a sudden I saw this bright glowing orange light."
"I thought it was a planet or a star at first and then I realized 'oh that's close and it's moving towards us'. Then 'boom' it started dropping what looked like orange fireballs or something that travelled for a few seconds before they faded out and disappeared."
It's worth noting that there is a military base near to the city, however so far neither the Federal Aviation Administration nor the Army National Guard have been able to offer an explanation. 
Some have speculated that the object could be an aircraft dropping parachute flares as part of a military exercise, however Maier remains unconvinced.
"There were no navigation lights," he said. "Even the military has to have navigation lights on."
"That's an FAA rule. I know what I saw, and I don't think it was from here, and I think it was definitely something else.
You can check out a local news report which features the original footage below.
https://youtu.be/xsukWBjXsbw
https://www.unexplained-mysteries.com/news/332900/ufo-filmed-dropping-fireballs-over-arizona
Thanks to: https://www.unexplained-mysteries.com