Pigeons spotted wearing tiny cowboy hats
Posted on Thursday, 12 December, 2019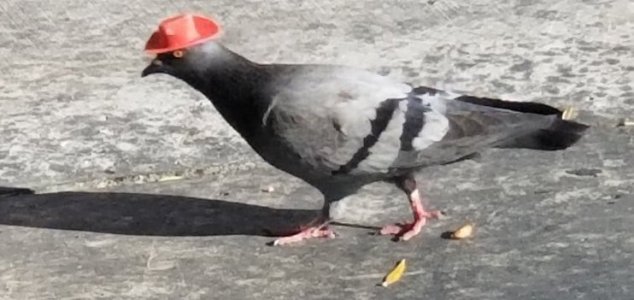 Just a pigeon wearing a hat... nothing to see here. Image Credit: Twitter / @Mx_Chaos420
Efforts are underway to track down who is responsible for affixing small hats to the heads of pigeons in Las Vegas.
Just when you think you've seen everything - now there are pigeons wandering around the streets of Las Vegas with tiny red cowboy hats attached to the tops of their heads.
While photographs and video clips of the peculiar spectacle have proven particularly popular on social media over the last few days, concerns have also been raised over the welfare of the birds.
"At first, I was like, oh my god that's cute!" said Mariah Hillman, founder of animal rescue organization Lofty Hopes. "Then, I was like, wait a minute - how did they get those hats on there?" 
"Did they glue them? Is it something that's going to impede their flight or attract predators?"
As things stand, nobody is quite sure who is responsible for putting the hats on the birds or why.
You can check out some footage of the cowboy pigeons below.
https://youtu.be/E4TcnOOMalY
https://www.unexplained-mysteries.com/news/332866/pigeons-spotted-wearing-tiny-cowboy-hats
Thanks to: https://www.unexplained-mysteries.com