New photographs of interstellar visitor revealed
Posted on Wednesday, 18 December, 2019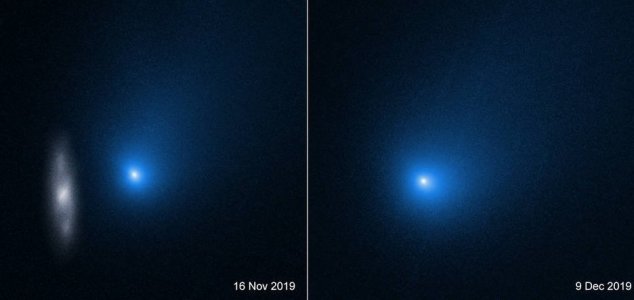 The two photographs were taken almost a month apart. Image Credit: NASA, ESA and D. Jewitt (UCLA)
NASA has released two new images showing interstellar comet Borisov traveling through our solar system.
First observed on August 30th, the comet, which is the second confirmed interstellar visitor to our solar system, was announced in September by the Minor Planet Center (MPC) at Harvard University.
The first of these two new photographs, which was taken on November 20th, shows the comet 203 million miles from Earth while a distant spiral galaxy can be seen lurking in the background.
The second, which was taken on December 9th, shows the comet approximately 185 million miles from Earth and heading away after its closest approach. 
Both images were taken by the Hubble Space Telescope.
"Hubble gives us the best upper limit of the size of comet Borisov's nucleus, which is the really important part of the comet," said Prof David Jewitt from the University of California.
"Surprisingly, our Hubble images show that its nucleus is more than 15 times smaller than earlier investigations suggested it might be... the radius is smaller than half a kilometer."
"Knowing the size is potentially useful for beginning to estimate how common such objects may be in the solar system and our galaxy. Borisov is the first known interstellar comet, and we would like to learn how many others there are."
Source: Space.com |
https://www.unexplained-mysteries.com/news/333069/new-photographs-of-interstellar-visitor-revealed
Thanks to: https://www.unexplained-mysteries.com