Boeing Starliner capsule fails to reach ISS
Posted on Sunday, 22 December, 2019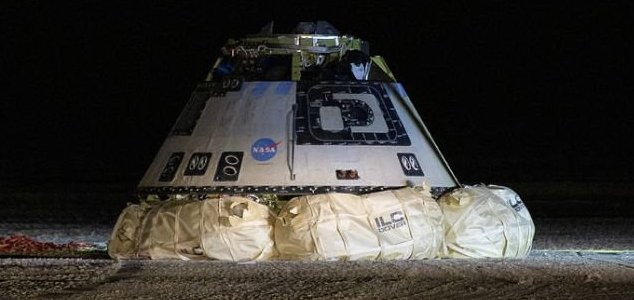 Starliner after landing at White Sands Missile Range in New Mexico. Image Credit: NASA
Boeing's reusable crew vehicle had aimed to dock with the station this week but things didn't go quite to plan.
Similar to Lockheed Martin's Orion capsule, the Boeing CST-100 Starliner is designed to carry astronauts up into space as part of ongoing efforts to end NASA's reliance on Russia's Soyuz spacecraft for its crew transportation needs.
Starliner launched on its maiden unmanned flight on Friday morning with the intention of rendez-vousing with the station to demonstrate its docking capabilities, however a timing error meant that it ended up in the wrong orbit and was no longer able to reach its target.
After spending just 48 hours circling the Earth, the capsule returned for a successful touchdown at White Sands Missile Range in New Mexico earlier today. 
Despite the technical issues however, the future is looking bright for Starliner.
"It was an absolute bullseye, better than I think anybody anticipated," NASA Administrator Jim Bridenstine said of the landing.
"That's good for the agency, it's good for Boeing; that's good for the United States of America."
It will likely be a good few months however before the capsule can launch again.
https://youtu.be/5-juEZIKTYQ
https://www.unexplained-mysteries.com/news/333124/boeing-starliner-capsule-fails-to-reach-iss
Thanks to: https://www.unexplained-mysteries.com