Is the star Betelgeuse about to go supernova ?
Posted on Tuesday, 24 December, 2019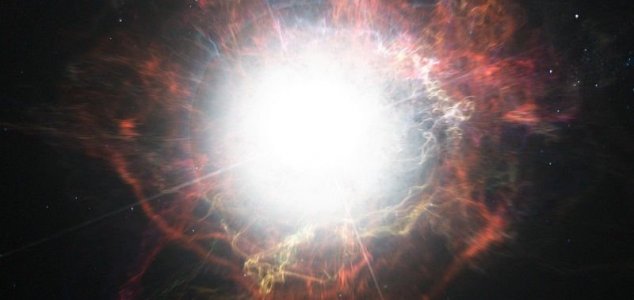 A supernova so close would be quite spectacular. Image Credit: CC BY 4.0 ESO/M. Kornmesser
One of the brightest stars in the night sky is exhibiting signs that its explosive demise might not be far away.
The red supergiant, which can be found in the constellation Orion, has been going through periods of dimming and brightening for thousands of years however a particularly notable and recent period of low intensity has been piquing the interest of astronomers who have speculated that it could be an indication that the star is about to go supernova.
Such an event, when it does happen, could make Betelgeuse appear so bright in the sky that it would be like a second sun - albeit for a period of only a few weeks.
Situated around 700 light years away, the star has long been expected to go supernova at some point however there is much uncertainty over exactly how long it will be before this happens.
Even if the recent reduction in intensity is an indication of this, it could still take thousands of years. 
"Stars in the later phases of their life go through a lot of variability that we can't fully explain yet... It probably still has tens of thousands of years, if not 100,000 (left)," wrote astronomer Yvette Cendes of the Harvard-Smithsonian Center for Astrophysics.
One astrophysicist - Matthew Buckley of Rutgers University - has even made the tongue-in-cheek suggestion that the dimming could be due to the construction of a Dyson sphere.
"Weird how everyone is wondering if Betelgeuse dimming means it is going supernova (sadly, unlikely), but no one is asking the real question: is its dimming a sign that someone is finishing a Dyson sphere around it ?" he wrote.
The concept of a Dyson Sphere was originally proposed over 50 years ago by physicist Freeman Dyson who suggested the possibility that a sufficiently advanced extraterrestrial race may be able to surround a star with a huge spherical structure and then live on the inside of the sphere.
Suffice to say however that it is unlikely to the extreme that this is what's happening with Betelgeuse.
Source: CNET.com

https://www.unexplained-mysteries.com/news/333252/is-the-star-betelgeuse-about-to-go-supernova
Thanks to: https://www.unexplained-mysteries.com