Reporters Claim To Have Proof China Lying About Virus Death Toll As Total Cases Near 8,000; 12,000 More Suspected
Date: January 29, 2020Author: Nwo Report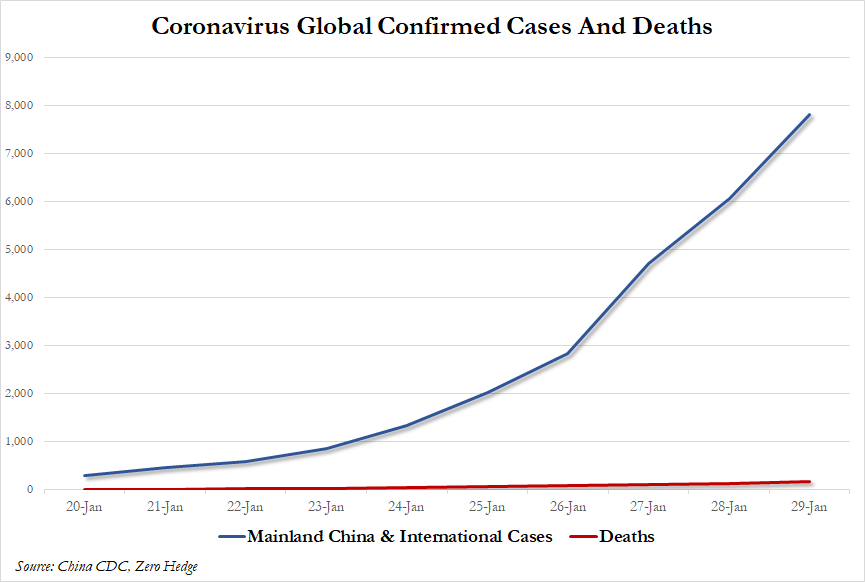 Summary:


Death toll climbs to 170, 7,771 cases confirmed in China, 7,811 international; 170 cured; 12,167 cases suspected

Reporter claims local media has evidence Beijing lying about death toll

British Airways cancels flights to China

Trump says he spoke with Xi over the phone

Angry mobs spotted in Sichuan

CDC sending representatives to China

* * *
Update (1850ET):
China's NHC just released another update. Adding more than 600 to the total confirmed cases, China is now admitting to 7,771 cases across the country. The death toll has climbed to 170 (which includes one death outside China) and 170 patients have been cured – the same number as the dead. Some 31 cases were labeled "severe" and nearly 90,000 people have been "tracked" (interrogated about contacts and symptoms). Nearly 82,000 are under observation (aka quarantine).
Read More
The number of suspected cases climbed from just over 8,000 to just north of 12,000.
Here's a breakdown of all the revisions…


Confirmed cases +29% (from 5974 to 7711)

Suspected cases +52% (from: 8019 to 12167)

Severe cases +10% (from 1239 to 1370)

Death toll +29% (from 232 to 170

Report this ad
…and here's a  copy of the announcement from China's National Health Office, translated into English via Google:
At 04:00 on January 29, 31 provinces (autonomous regions and municipalities) and the Xinjiang Production and Construction Corps reported 1737 new confirmed cases (the first confirmed case in Tibet), 131 new severe cases, and 38 new deaths. (37 cases in Hubei and 1 in Sichuan), 21 new cases were cured and discharged, and 4148 suspected cases were added.
As of 24:00 on January 29, the National Health and Health Commission has received a cumulative report of 7711 confirmed cases, 31 cases of severe cases, 170 death cases, and a total of 170 patients who have been cured and discharged. There were 124 cases with 12,167 suspected cases.
At present, 88,693 close contacts have been tracked. Of the 2,364 people who were released from medical observation on the same day, a total of 81,947 people are receiving medical observation.
A total of 25 confirmed cases were reported in Hong Kong, Macao and Taiwan: 10 in the Hong Kong Special Administrative Region, 7 in the Macao Special Administrative Region, and 8 in Taiwan.
And the updated chart…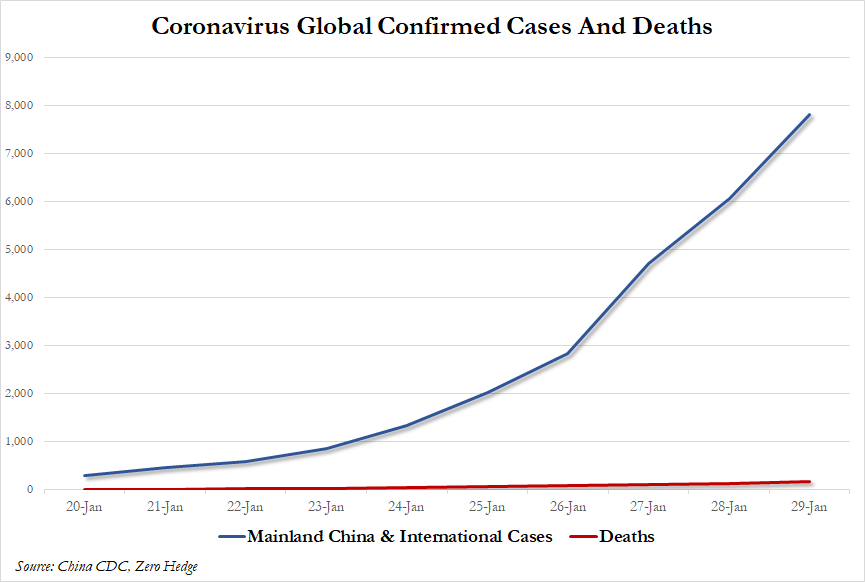 In other news, as economists worry about the blowback to China's already slowing economy, Peter Navarro said late Wednesday that the Trump administration will keep its tariffs in place no matter what happens with the outbreak.
That's probably why there have been so many rumors about the fraught relationship between Trump and Xi, and reports that Trump never actually spoke with the Chinese leader after claiming that they had discussed the outbreak.
Once again, we'd like to point out that we're ahead of this supposedly "alarmist" and "fearmongering" model (h/t @abuforlife1):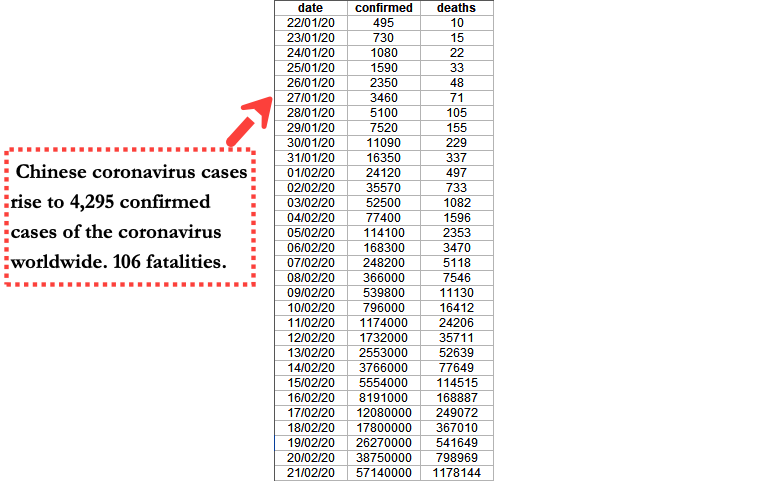 * * *
Update (1720ET):
The government in Hubei has announced another slate of cases and deaths.


CHINA'S HUBEI REPORTS 37 ADDITIONAL DEATHS FROM CORONAVIRUS

CHINA CORONAVIRUS DEATH TOLL RISES TO AT LEAST 169

CHINA'S HUBEI REPORTS 1,032 MORE CORONAVIRUS CASES FOR JAN. 29

Meanwhile, 26,632 people are still undergoing medical observation, and another 4,334 cases are still being treated in the hospital. The CDC has just confirmed that it's sending representatives to China to help suppress the outbreak.
https://nworeport.me/2020/01/29/reporters-claim-to-have-proof-china-lying-about-virus-death-toll-as-total-cases-near-8000-12000-more-suspected/
Thanks to: https://nworeport.me