Most detailed ever images of the Sun revealed
Posted on Thursday, 30 January, 2020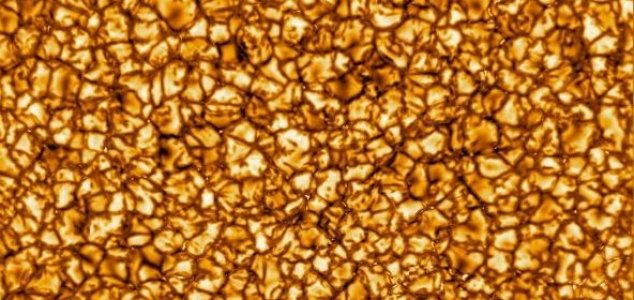 The Sun's surface almost looks like caramel. Image Credit: NSO/NSF/AURA
Newly released high-resolution photographs show the surface of our star in more detail than ever before.
Like a bubbling, super-heated cauldron, the surface of the Sun has been revealed in unprecedented detail this week thanks to the National Science Foundation's Daniel K. Inouye Solar Telescope which is situated on the summit of Haleakala in Hawaii, 10,000ft above sea level.
Incredibly, the above image, which shows an area of cellular formations each approximately the size of Texas, was taken during the telescope's testing phase, meaning that we can expect to see a wide range of highly detailed images of the Sun's surface once it becomes fully operational. 
According to The National Science Foundation, within its first five years the telescope will collect more data about the Sun than all the other observatories in the last 400 years combined.
While this is going on, NASA's Parker Solar Probe, which will venture within a mere 3.83 million miles of the Sun's surface, will also be collecting an unprecedented amount of data.
It's certainly going to be an exciting time for solar scientists.
https://youtu.be/bNnxCPMclGo
https://www.unexplained-mysteries.com/news/334201/most-detailed-ever-images-of-the-sun-revealed
Thanks to: https://www.unexplained-mysteries.com