Just say No to drunk "droning": Japan to fine offenders $2800
01/23/2020 / By Arsenio Toledo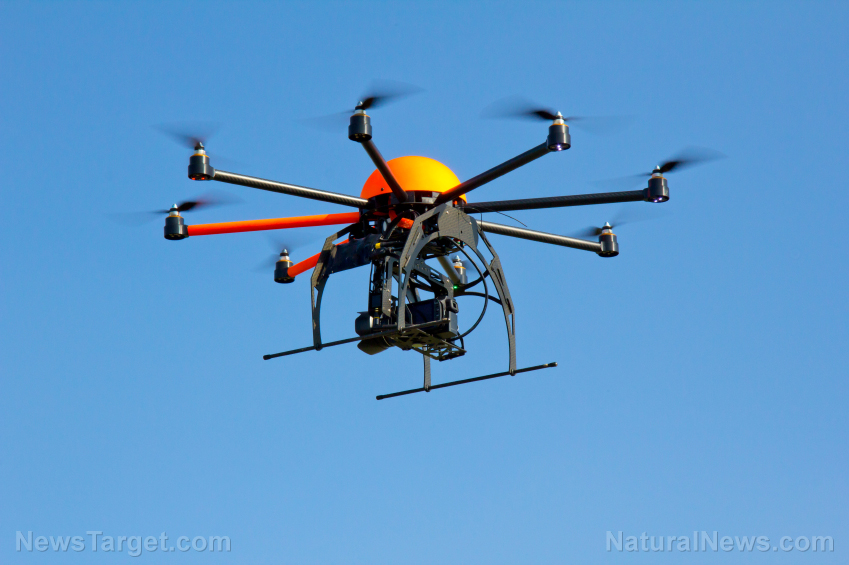 Thanks to new legislation voted in by Japan's parliament, the practice of flying a drone while under the influence of alcohol is now illegal. Offenders who are caught can be slapped with a fine of 300,000 yen, which is equivalent to around $2,750. "Drunk droning" can even land lawbreakers up to a year in prison for their crime. The new law will apply to any drone weighing more than 200 grams. (Related: Leveraging new tech for conservation: Drones help researchers track sea turtles, gather data.)
Japan's anti-drunk droning law covers more than operating drones while intoxicated. It also puts limits on where they can be flown. Drones and other unmanned aerial systems are now banned from being flown within 300 meters of any Japanese or US military installations and other defense-related facilities without the permission of either the Japan Self-Defense Forces or other relevant authorities.
Furthermore, they require permission from the Ministry of Land, Infrastructure, Transport and Tourism (MLIT) before they can fly a drone near airports, city centers and airspace above 150 meters. They are also required to avoid flying in crowded areas, to keep their drone within eyesight at all times and to only fly their drone during daylight. Anyone caught failing to abide by these regulations could face a fine of up to 500,000 yen, or around $4,500.
In a statement, an official from the MLIT said that "We believe operating drones after consuming alcohol is as serious as [drunk] driving."
The fight to regulate drones
The new laws have come as Japan sees a rising amount of both drone usage and drone-related accidents.
Before this law, Japan's National Diet also passed a series of laws banning the flying of drones over the Tokyo 2020 Olympic sites. Furthermore, they also banned the flying of drones over key facilities, such as over the Tokyo Imperial Palace and the office of the Prime Minister. Drones are also banned from flying anywhere near nuclear power plants.
Japan has had a contentious history with drones. In 2017, a nearly nine pound drone which was deployed at a "robot festival" at a park in Ogaki city in central Japan crashed into a small crowd. It was supposed to shower children with candy. The event was organized by the city tourism association and the drone pilot was a qualified individual who represented a drone maker in the prefecture. The operator even claimed that he received a permit from the MLIT to operate a drone at the event. The drone injured six people after plunging 33 feet to the ground. Those hit by the drone ranged in age from 5 to 48. Luckily, according to the police, most of the injuries were minor.
In 2015, a drone with a camera and a bottle of an unidentified liquid landed on the roof of the Prime Minister's office. The drone apparently contained traces of radiation. This sparked concerns about drones and their possible use in terror attacks. Thankfully, nobody was harmed, and this incident served as a wake up call for Japan to the potential dangers of drones. Many of the new regulations regarding the use of drones came from studying this incident.
Japan isn't alone in the battle to regulate the use of drones. Canada's Minister for Transport has announced its own regulations concerning their use. Aside from banning operators from piloting drones while under the influence of drugs or alcohol, Canada now also prohibits users from flying drones near airports and emergency scenes. New Jersey too, has outlawed "drunk droning," and has passed regulations prohibiting operators from using drones near facilities such as schools, prisons and parks, as well as to chase wildlife.
Sources include:
[url=https://www.dailymail.co.uk/sciencetech/article-7138905/New-law-Japan-makes-illegal-fly-drone-drunk.html https://www.bbc.com/news/technology-48621450]DailyMail.co.uk[/url]
BBC.com
DroneDJ.com
JapanTimes.co.jp
TheGuardian.com
IFLScience.com
https://glitch.news/2020-01-23-just-say-no-to-drunk-droning-japan-to-fine-offenders-2800.html
Thanks to: https://glitch.news