Two men film alleged 'Bigfoot' in Ohio woodland
Posted on Wednesday, 12 February, 2020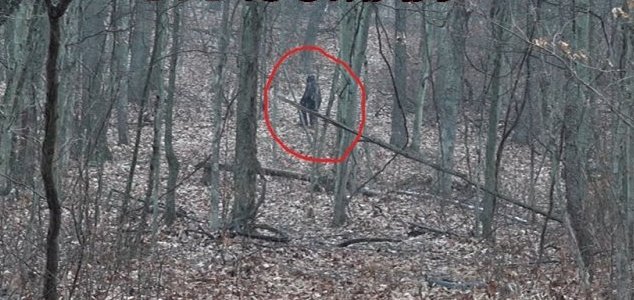 Is this Bigfoot or a man in a suit ? Image Credit: YouTube / We Do It Outdoors
A recently published viral video on YouTube shows a large hairy figure walking through the trees.
The questionable video was reportedly filmed in Salt Fork State Park, Ohio on January 12th by two hikers whose identities have not been disclosed.
"My friend and I got permission to fly our drones at Salt Fork State Park in Ohio," the caption reads.
"While we were there we heard many strange noises and we believe we may have found the Ohio Grassman / Bigfoot / Sasquatch in Ohio at Salt Fork."
"We used GoPro Hero7 Black, GoPro Hero 8 Black, and the DJI Mavic Air and DJI Mavic Mini."
The footage begins with a general tour of the woods and features various nature shots of the area. 
The 'Bigfoot' first appears at around 4:06s and remains visible for several minutes as it traipses around behind the trees. At around 7:50s in the video, it can be heard letting out a loud, guttural cry.
The two men recording the footage can be heard commenting throughout.
But is this really evidence of Bigfoot ? The creature itself looks suspiciously like a person wearing a suit and the way it plods along through the leaves looks very much like the way a human walks.
There's also the fact that the video appears to have been heavily edited.
You can check out the footage for yourself below - what do you think ?
https://youtu.be/KdDu9s9dYwE
https://www.unexplained-mysteries.com/news/334549/two-men-film-alleged-bigfoot-in-ohio-woodland
Thanks to: https://www.unexplained-mysteries.com