'Storm Area 51' is happening all over again
Posted on Saturday, 15 February, 2020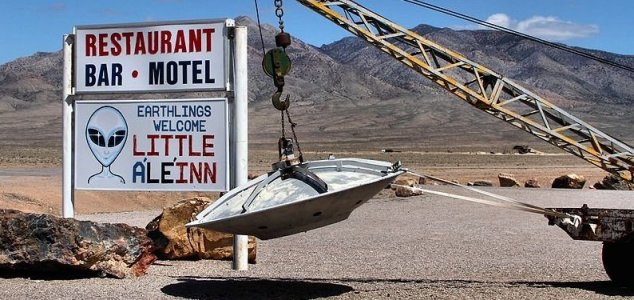 The Little A'Le'Inn is a popular visitor attraction. Image Credit: CC BY-SA 2.0 Airwolfhound
The infamous event, which saw millions of sign-ups back in 2019, is set to take place again later this year.
Originally billed as a tongue-in-cheek effort to determine if there are aliens at the secretive US base, the event titled "Storm Area 51, They Can't Stop All of Us" was originally posted on Facebook in July.
It quickly became something of an Internet phenomenon with a whopping 2.5 million signups.
Sadly though the event was marred by military warnings, organisational problems and a rather poor showing given that only a tiny fraction of those who had signed up actually attended on the day.
This hasn't stopped efforts to attempt the whole thing again this year, however. 
A recent posting by the owners of the aptly-named Little A'Le'Inn in Rachel, Nevada has revealed that 'Rachel Alienstock 2020' will be taking place across three days starting on September 10th.
While there are no other details at the moment, an employee told
Mashable
in a phone call that there is a chance that it could be postponed until the following year due to unforeseen complications.
As things stand, we'll just have to wait and see what happens.
If it's anything like last year's event, organizing and hosting it could prove something of a challenge.
Source: Mashable

https://www.unexplained-mysteries.com/news/334651/storm-area-51-is-happening-all-over-again
Thanks to: https://www.unexplained-mysteries.com