Japan to launch Phobos sample-return mission
Posted on Friday, 21 February, 2020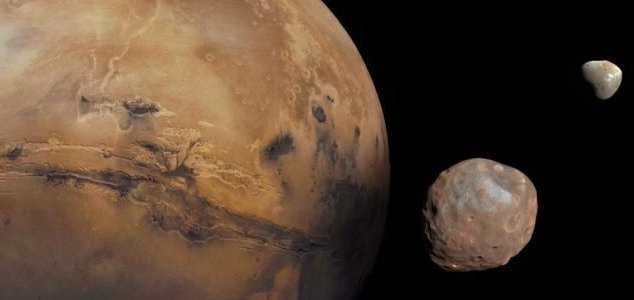 An illustration showing Phobos and Deimos alongside Mars. Image Credit: NASA
Japan's space agency has greenlighted an ambitious mission to retrieve a piece of Mars' moon Phobos.
Having succeeded in collecting and sending back samples of dust from the Hayabusa2 asteroid, JAXA is certainly no stranger to the idea of retrieving pieces of another world.
The Japanese space agency's latest endeavour will see it send a robotic spacecraft to Phobos - a tiny 17-mile-wide potato-shaped chunk of rock in orbit around Mars.
Once there, the probe will land, collect a core sample, then set off on a return journey to Earth.
Known as the Martian Moons Exploration (MMX) project, the mission will aim to answer some of the most fundamental questions about the moons of Mars such as how they came to form. 
JAXA is expected to partner up with NASA and the European Space Agency which will help out by providing certain pieces of hardware for the mission.
Both Phobos and Deimos are also being considered as stepping stones for future manned missions.
"Humans can realistically explore the surfaces of only a few objects and Phobos and Deimos are on that list," said NASA chief scientist Jim Green.
"Their position orbiting about Mars may make them a prime target for humans to visit first before reaching the surface of the Red Planet, but that will only be possible after the results of the MMX mission have been completed."
If all goes according to plan, the spacecraft could launch as early as 2024.
Source: CNET.com

https://www.unexplained-mysteries.com/news/334821/japan-to-launch-phobos-sample-return-mission
Thanks to: https://www.unexplained-mysteries.com