US Air Force couldn't explain mystery drones
Posted on Saturday, 29 February, 2020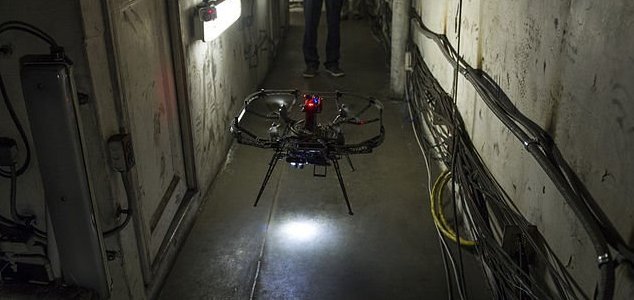 Who or what was operating the drones ? Image Credit: US Navy
Newly released emails show that officials at F.E. Warren AFB did not know who was behind the Colorado drones.
Back at the end of December 2019, reports emerged of a fleet of unidentified drones operating in Colorado's Phillips and Yuma counties between 7pm and 10pm in the evening.
The unmanned vehicles ended up generating concern and intrigue in equal measure with both residents and authorities alike being unable to explain who was operating them or why.
Within days, the sightings had spread to other counties and even into neighboring Nebraska.
Now a series of emails obtained through a Freedom of Information Act request have offered a unique insight into what was happening behind the scenes at F.E. Warren Air Force Base at the time.
The communications sent back-and-forth between officials reveal that, even at the highest level, an explanation for the mysterious drone activity remained surprisingly elusive.
In one e-mail dated January 2nd 2020, an unknown sender wrote:
Hey colonel: Northeastern Colorado is in a tizzy about drone sightings. They all seem clustered in an area that has quite a few Minuteman sites. Do you know if security forces is playing with UASs [unmanned aircraft systems] up there?
" 
Another sourced from the 90th Security Forces Group reads:
"
Sheriff's deputies are responding and seeing the drones as well. They reported seeing a 'mothership' 6' in diameter flanked by 10 smaller drones (some fixed wing, some not). When deputies follow the drones, they clock them at speeds of 60-70 mph. The drones also appear to be dropping or picking up things that look like 'potatoes' [Redacted]
"
"
The FBI in Colorado and the Joint Terrorism Task Force (JTTF) in Omaha are currently looking into the sightings. Perkins County Sherriff's [sic] Office has three of the potatoes frozen in storage and will likely transfer them to the FBI for analysis. The FAA is sending an agent to Colorado this upcoming weekend to help investigate and handle the news coverage.
"
F.E. Warren would eventually release an official statement about the phenomenon:
"
We can confirm that the drones spotted in Colorado and Nebraska are not from F.E. Warren Air Force Base and are not affiliated in any way with the United States Air Force. We have provided this information to the FAA, FBI, and state and local authorities, as they investigate this matter.
"
As things stand however, the case appears to be far from solved.
You can read the e-mails, as well as a more detailed analysis, on
The Drive
-
here
.
Source: The Drive

https://www.unexplained-mysteries.com/news/335054/us-air-force-couldnt-explain-mystery-drones
Thanks to: https://www.unexplained-mysteries.com