Mysterious cave on Mars prompts speculation
Posted on Tuesday, 3 March, 2020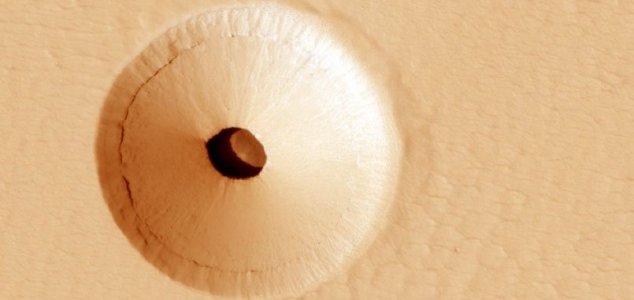 Could there be life forms sheltering within this cave ? Image Credit: NASA / JPL / U. Arizona
NASA has released a fascinating photograph showing a large cave entrance on the slopes of a Martian volcano.
Posted up on March 1st as NASA's 'Astronomy Picture of the Day', this remarkably clear image of the slopes of Mars' Pavonis Mons volcano shows a depression in the ground with an opening at the bottom that drops into a subterranean cavern.
The photograph was captured by the HiRISE instrument aboard NASA's Mars Reconnaissance Orbiter which has been orbiting the Red Planet for more than 14 years.
According to the article, the cave opening measures 35 meters across and descends 20 meters down.
Exactly how it formed, as well as what might lie inside, remains a complete mystery.
"Why there is a circular crater surrounding this hole remains a topic of speculation, as is the full extent of the underlying cavern," NASA wrote.
"Holes such as this are of particular interest because their interior caves are relatively protected from the harsh surface of Mars, making them relatively good candidates to contain Martian life."
"These pits are therefore prime targets for possible future spacecraft, robots, and even human interplanetary explorers."
Source: NASA.gov

https://www.unexplained-mysteries.com/news/335150/mysterious-cave-on-mars-prompts-speculation
Thanks to: https://www.unexplained-mysteries.com