Half-man, half-mantis petroglyph discovered
Posted on Tuesday, 17 March, 2020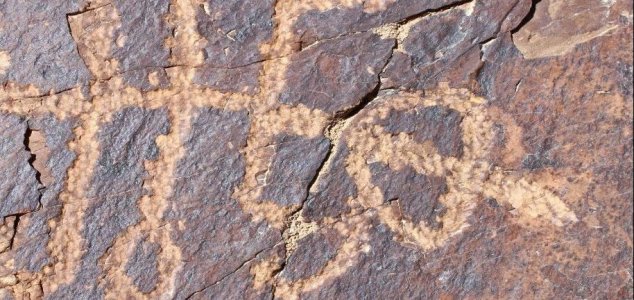 The unusual petroglyph measures around 14cm across. Image Credit: Dr. Mohammad Naserifard
A unique rock carving of a 'squatter mantis man' with six limbs has been identified at a site in Iran.
Discovered at the Teymareh rock art site in Iran's Khomein county, the petroglyph, which appears to show an amalgamation of a man and a mantis, is quite unlike anything seen before.
Measuring 14 centimeters across, the unusual carving has been described in a new paper by an international group of archaeologists including rock art expert Mohammad Naserifard.
Petroglyphs of invertebrate animals are particularly unusual and the story behind this one remains unclear. The six limbs are thought to represent an insect, while the triangular head and large eyes appear to be those of a mantis - a genus native to the region known as Empusa.
The figure also possess middle limbs that end in loops or circles - a possible reference to the "squatter man" - a common petroglyph figure depicting a person flanked by circles.
While it is difficult to determine exactly how old the carving is, experts have offered an estimate of between 4,000 and 40,000 years ago.
"The Iranian motif seems to be a combination of 'praying mantis' and 'squatting (squatter) man,' so it is hereby named 'squatting (squatter) mantis man," the researchers wrote.
Source: Phys.org

https://www.unexplained-mysteries.com/news/335510/half-man-half-mantis-petroglyph-discovered
Thanks to: https://www.unexplained-mysteries.com