A Sign of Mass Awakening
Published April 4, 2020 by Christine Hoeflich
I've been meaning to relaunch my spiritual awakening blog for a few months now, but was waiting for the right inspiration. The last several months, I've been busy working for a company that designs water treatment systems, and waiting for insight and direction to emerge for my "new" blog.
As you can see, I have a new header photo (designed by my photographer and graphic designer friend, Anne' Phillips). Besides spiritual awakening, I added "uplifting your life," "living consciously" and "fulfilling your purpose" as the main themes. Part of this (slightly new) direction came to me from a recent, vivid dream …
Your Higher Self Speaks to You through Your Dreams
If you've read my blog or books in the past, you might remember that I shared some of my dreams. And you also may know that your higher self, your connection to the Divine, often speaks to you in your dreams. So, here's a dream I had recently …
Around mid-December 2019, I had a dream where I was climbing a ladder to get to the top of it, where I reached a ledge. I got up on the ledge, which was only about 4 inches wide, and began pulling people up. But there was a problem: the people could not stay up on the ledge, because it wasn't wide enough.
So then I needed to build a wider ledge. I dragged wood and tools up the ladder to build this wider ledge. I figured I should make the ledge at least a foot or so wider, so people could stay up on it, once they got up. I took a hammer, nails and a board and began hammering the board to widen the ledge. That's when I woke up.
Is it a Coincidence, or a Sign from the Universe? My Hike on Tuesday
It's been a while since I hiked. Years ago, when I was writing my books, I used to hike daily. The last few years, I've been working, focused on other things, and maybe like yourself, just too busy. But after a long break, I started hiking again on Monday, March 30.
On Tuesday, I went on another hike. This time, I said a long prayer, out loud, for all that we're going through right now, for the best outcome for humanity and all of the Earth's inhabitants. As soon as I was done with my prayer, I walked to the other side of the street, then noticed something weird. There was something under a huge log, a literal sign, and I began to pull on it. I couldn't pull it out because the left side was stuck under a heavy log. So I bent the wires, so that anyone walking or driving by could see it and read it. I took a photo of it, it's below …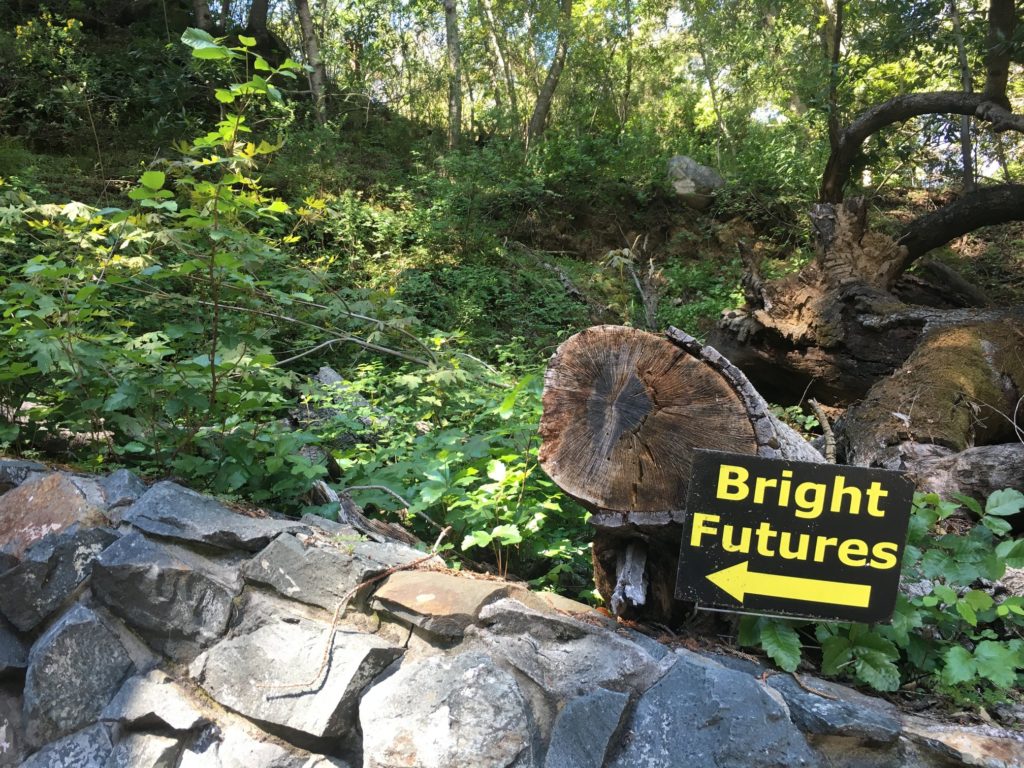 If you've read my blog posts, articles and books in the past, you might remember my article from 2008 titled, "Is it Coincidence, or a Sign from the Universe." I'm not able to find it on Google anymore, it's gone, but it is on the EzineArticles.com site. (I may republish it here on my blog in the near future.)
Does this mean I think everything is hunky-dory? No, actually, quite the opposite. But I do believe we are in a time (finally!) of the possibility of a great spiritual awakening. A bright and promising future is definitely a possibility, that is,
if we
bend the current trajectory
.
Right now, things aren't looking so great. But I'm not going to discuss here what I think about this "virus." I have my own understanding, and have been suspicious of the mainstream narrative since day one. So I've been waiting for something really worthwhile to share on my blog, and yesterday I found that something.
Rather than me writing about it, I'd rather have you listen to the following two explanations, one from a decades-long health reporter (one of the greatest journalists ever, and he's crystal-clear, too), and another from an insightful MD. I urge you to listen to all three parts of Jon's audio, and to Dr. Cowan's entire presentation. (The total time for both presentations is about three and a half hours.)
This short investment in time (3.5 hrs.) is really worth your while, as you might come to the conclusion, as I did, that you can now stop listening to and reading other "trusted sources" for insight into what's going on.
Jon Rappoport Audio
Dr. Cowan Explanation
When you're inundated with so much contradictory news, so much misinformation, you've got to listen to some voices of reason that make much more sense than the current popular narrative.
In addition, you've got to go within and activate your inner BS detector, follow your own inner guidance, and awaken to the bigger picture regarding this planet's evolution. That is the whole point of this time.
Let me explain. Around 2001/2002 I went through a major crisis. I knew that no one or nothing outside of myself could help me through that crisis. I knew I had no other choice but to go within, deep within, and "figure this whole thing out." The culmination of that work is the numerous articles and blog posts I wrote and shared, as well as the two books I published.
When you're in a crisis, when you're suffering, the potential for great change and personal growth, aka "spiritual awakening" exists. But none of this is automatic, and it's not going to happen automatically. You must strengthen your relationship with your higher self, the part of you that has a direct connection to the Divine, Great Spirit, God, Jesus, Buddha. And you take it through, you go through the spiritual awakening process. You take it through to the end.
I don't think we're going to be rescued from this chaos. I mean, sure, it would be nice to have a large group of heroes working toward the planet's liberation, but I wouldn't necessarily count on it.
Why do I think this? Because from my own experience, being rescued is not part of Divine Plan. What's going on is about the hero's journey. Everyone gets to be a hero, in their own way. Because we all need to do our part in the Divine Plan.
Well, maybe there
are
groups of heroes, ready to fulfill their assignments, but they definitely need the help of each one of us, to help transform the consciousness of the planet.
Here's another thing to think about before I end this post: "They" are as much a part of the Divine Plan as you or I. "They" are not pulling the strings behind the curtain, orchestrating the Divine Plan. Them pulling the strings behind the curtain is
part of
the Divine Plan, and they are also subject to it. The point is: Please do what you're called to do
from within
, to bend the trajectory of humanity's future!
Finally, I'd like to share from Dr. Cowan two things:
The first is, find out what it means to be human. And please, find someone less fortunate than you and help them out.
The second thing is "a Verse for Our Time" from Rudolph Steiner.
We must eradicate from the soul all fear and terror of what comes towards man out of the future.
We must acquire serenity in all feelings and sensations about the future.
We must look forward with absolute equanimity to everything that may come.
And we must think only that whatever comes is given to us by a world-directive full of wisdom.
It is part of what we must learn in this age, namely, to live out of pure trust, without any security in existence.
Trust in the ever-present help of the spiritual world.
Truly, nothing else will do if our courage is not to fail us.
And let us seek the awakening from within ourselves every morning and every evening. — Rudolph Steiner
The last word is from me: Remember, this is much, much bigger than (most people) think.
Thanks to Christine at: https://www.christinehoeflich.com/