Patrolling Dalek orders people to self-isolate
Posted on Monday, 6 April, 2020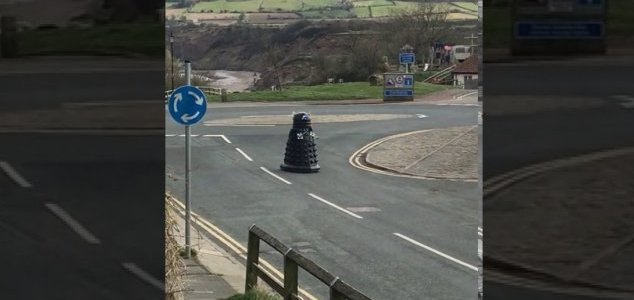 SELF-ISOLATE... SELF-ISOLATE... Image Credit: Facebook / Louise Parker
One of Doctor Who's most iconic villains was filmed patrolling the streets ordering people to stay at home.
If the threat of a police fine isn't enough to keep people from flaunting the lockdown rules during the coronavirus pandemic, perhaps a Dalek will be.
Residents of the small coastal village of Robin Hood's Bay, England couldn't believe their eyes when one of the iconic Doctor Who villains started patrolling the street outside their homes, calling over and over in its distinctive voice for people to self-isolate.
The local police department wasted little time in getting on board with the stunt."Our colleagues in Skaro Division have deployed their Direct Action Local Enforcement Kops to ensure everyone is following guidelines about isolation and social distancing," Tayside Police wrote.
"We recommend everyone uses their Totally Awesome Rightly Distanced Isolation Systems to comply."
The Dalek's appearance comes a couple of weeks after the Doctor herself, Jodie Whittaker, made a short video to reassure fans and tell people to stay at home.
"I'm actually just self-isolating - or as I like to call it, hiding, from an army of Sontarans. But keep that to yourself," she said. "Remember, you will get through this and things will be alright, even if they look uncertain. Even if you're worried, darkness never prevails."
https://youtu.be/2MvbkehQqOY
https://www.unexplained-mysteries.com/news/336125/patrolling-dalek-orders-people-to-self-isolate
Thanks to: https://www.unexplained-mysteries.com