Apollo 13 at 50: 'Houston, we've had a problem'
Posted on Tuesday, 14 April, 2020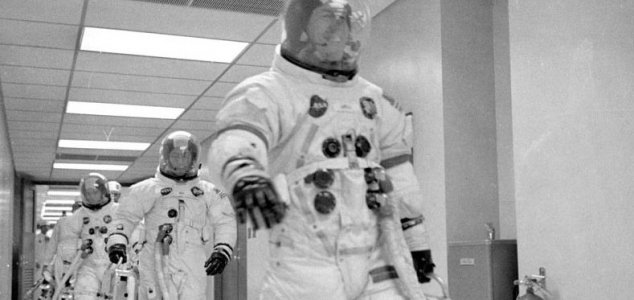 The crew of Apollo 13 just prior to launch. Image Credit: NASA
50 years ago, three astronauts had been on their way to the Moon when things started to go very wrong.
On April 11, 1970, NASA astronauts Jim Lovell, Jack Swigert and Fred Haise launched into the heavens on what was intended to be the third crewed mission to land on the Moon.
Two days later however, one of the oxygen tanks, which had unknowingly suffered damage before launch, exploded, throwing the three men into a fight for their very lives.
With no pre-existing strategy for dealing with such an eventuality, the astronauts, along with NASA personnel on the ground, battled to find a way to keep them alive long enough to get back home.
Over the next few days they would improvise a number of solutions, including creating a carbon dioxide filter out of duct tape, socks and bungee cord to stop the men from suffocating.
The lunar module, which was designed to land on the surface of the Moon, instead became a makeshift lifeboat thanks to its independent source of oxygen, water and power.
Incredibly, all three astronauts managed to make it back home very much alive on April 17th.
There is no denying however just how close they came to complete disaster.
"The explosion occurred on April 13, at just the right time to allow a return," Lovell told
CollectSPACE.
"If the explosion occurred when we had lit our engine to go to the moon, in the beginning, we would have never had enough consumables in the lunar module to go all the way around the moon and come back home again."
"If the explosion occurred after we got into lunar orbit, or, heaven forbid, when we were on the lunar surface, Mission Control would have had to figure out why they left three guys at the moon."
https://youtu.be/MdvoA-sjs0A
https://www.unexplained-mysteries.com/news/336191/apollo-13-at-50-houston-weve-had-a-problem
Thanks to: https://www.unexplained-mysteries.com