Man records 'Nessie' on Loch Ness webcam
Posted on Thursday, 16 April, 2020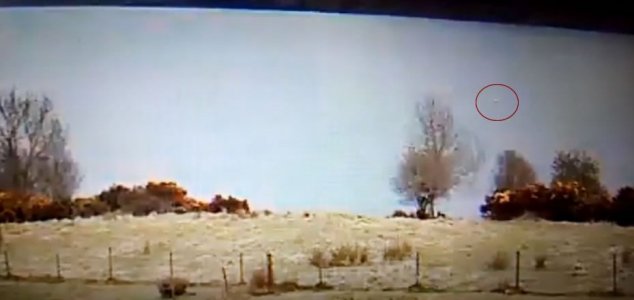 A still from the footage (which can be viewed below). Image Credit: YouTube / Eoin Fagan
The Official Loch Ness Monster Sightings Register has reported its second Nessie sighting of the year.
There might not be any visitors to Scotland's iconic loch these days due to the coronavirus lockdown, but that hasn't stopped fans from checking the region's official webcam for signs of the monster.
This latest sighting, which was recorded on April 13th, was reported by Eoin O Faodhagain who had been checking the live feed just after 8am when he spotted something moving in the water.
The object, which appears white in color and shows up at the start of the footage just above the large tree at the center-right of the frame, can be seen moving slowly towards the right.
According to Eoin, it was 10ft long, protruding at least 3ft out of the water and heading southwest.
It's worth noting that boat traffic on the loch is likely to be practically non-existent at the moment, so it's unclear what the object could be.
"He explained that it took a few seconds before the object appeared to show and that there was nothing on the surface of the water beforehand," the report reads.
"There are times in the video when it's completely submerged then it's back up again."
So could this be the fabled Loch Ness Monster or is there another explanation ?
You can check out the footage he captured below.
If you fancy trying your luck at spotting the monster yourself, the webcam can be found -
here
.
https://youtu.be/D16o0xDytnQ
https://www.unexplained-mysteries.com/news/336359/man-records-nessie-on-loch-ness-webcam
Thanks to: https://www.unexplained-mysteries.com