Volunteer 'ghosts' ensure Indonesia lockdown
Posted on Friday, 17 April, 2020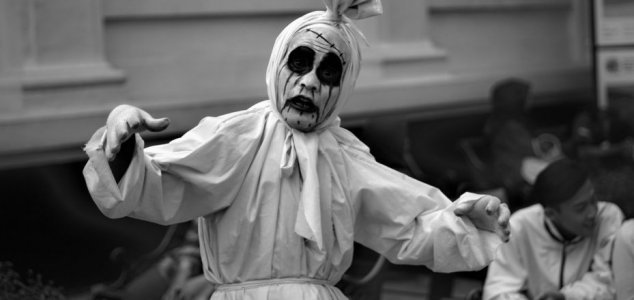 A man dressed up as a 'pocong'. Image Credit: CC BY-ND 2.0 Adhietya Saputra
A bizarre new scheme has seen volunteers dress up as ghosts to scare people into staying inside their homes.
Enforcing social distancing during the coronavirus pandemic can be a challenge, which is why authorities in Kepuh village, Indonesia have taken to recruiting 'ghosts' to help out.
Dressed up in what look like bed sheets, these ghostly figures - or 'pocong' - are well known in Indonesian folklore and are thought to represent the trapped spirits of the deceased.
The eerie costumes, which require the wearer to be trussed up to such an extent that they can no longer walk properly and have to hop around, are certainly unnerving when seen in the dark.
"We wanted to be different and create a deterrent effect because 'pocong' are spooky and scary," said village youth group leader Anjar Pancaningtyas who was involved in setting up the scheme.
According to reports, the ghostly volunteers have actually proven successful in keeping people indoors, with videos posted on social media showing them scaring people out in the streets.
"Since we set up the pocong roadblock, the environment of the village has become more conducive [to the idea of staying inside]," said Pancaningtyas.
Current data suggests that there are 4,500 cases of coronavirus and 400 deaths in the country, however it is believed that the lockdown measures have already proven very effective.
You can check out the volunteer ghosts in action in the news report below.
https://youtu.be/U7NaxvAmpzA
https://www.unexplained-mysteries.com/news/336346/volunteer-ghosts-ensure-indonesia-lockdown
Thanks to: https://www.unexplained-mysteries.com