Kepler data reveals hidden Earth-like exoplanet
Posted on Friday, 17 April, 2020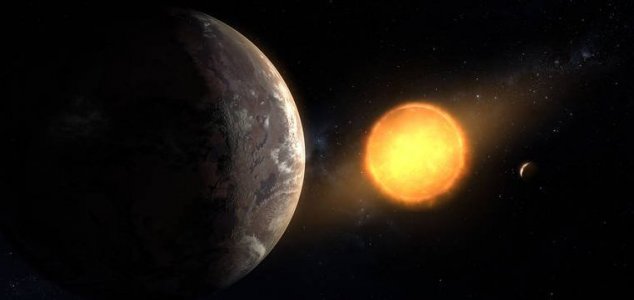 An artist's impression of Kepler-1649c. Image Credit: NASA / Ames Research Center / Daniel Rutter
Scientists have discovered one of the most Earth-like extrasolar worlds ever seen and they almost missed it.
The hunt for alien worlds in distant star systems has been going from strength to strength in recent years due in no small part to NASA's now-retired Kepler Space Telescope.
Now thanks to new computer software developed by researchers at NASA's Ames Research Center, another of Kepler's discoveries has come to light - one that had been hidden away deep in the data.
The planet, which is known as Kepler-1649c, is situated 300 light years away and is 1.06 times the size of the Earth - making it the most similar to our own planet of any Kepler world found to date.
Although Kepler-1649c is situated around a red dwarf star (which is cooler and dimmer than the Sun), it orbits close enough for there to be enough heat to make liquid water on its surface possible.
That said, we don't know its mass nor what kind of atmosphere it may have, so it's impossible to say right now just how likely it is to be habitable.
Kepler-1649c, like many other Earth-like exoplanets, will be a prime candidate for further study once NASA's long-awaited James Webb Space Telescope launches within the next few years.
"This intriguing, distant world gives us even greater hope that a second Earth lies among the stars, waiting to be found," said Thomas Zurbuchen, associate administrator of NASA's Science Mission Directorate in Washington.
https://youtu.be/vCh-9GCSC_M
https://www.unexplained-mysteries.com/news/336365/kepler-data-reveals-hidden-earth-like-exoplanet
Thanks to: https://www.unexplained-mysteries.com