Fleet of shipwrecks found in the Mediterranean
Posted on Tuesday, 21 April, 2020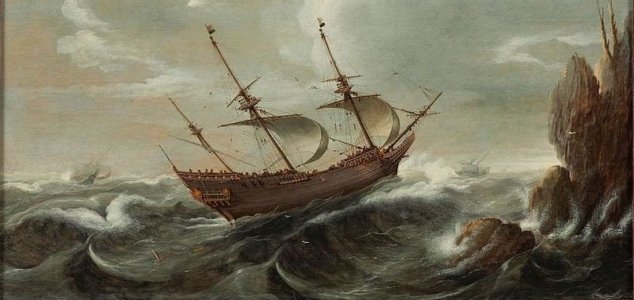 The discovery has been hailed as 'truly ground-breaking'. Image Credit: Cornelis Verbeeck
British archaeologists have discovered a treasure trove of shipwrecks, the oldest dating back over 2,000 years.
The vessels, which are situated approximately 1.2 miles beneath the Levantine Sea between Cyprus and Lebanon, has been described as an "embarrassment of wonders."
The find represents the discovery of a previously unknown maritime silk and spice route linking China in the east with Persia, the Red Sea and the Mediterranean.
"It doesn't get better than this," said archaeologist Sean Kingsley from the Enigma Shipwreck Project (ESP). "For an archaeologist it's the equivalent of finding a new planet."
The shipwrecks themselves, which date back to between the 19th Century and the 3rd Century BC, include vessels from the Greek, Roman and Ottoman empires.
One ship - a 17th-century Ottoman merchant ship - is absolutely enormous and could have easily carried two normal-sized ships on its top deck.
Its cargo included a vast wealth of goods and artefacts from 14 distinct civilizations.
"At 43 metres long and with a 1,000-ton burden, it is one of the most spectacular examples of maritime technology and trade in any ocean. Its size is matched by the breadth of its cargoes," said Kingsley.
 Boydell & Brewer  @boydellbrewer
The Enigma Shipwreck Project has found a cluster of 12 sunken vessels deep under the eastern Mediterranean. Dating from Ancient Greece to the Ottoman empire, the remains of their cargoes provide a wealth of info. #InTheNews
First reports just appearing. https://boybrew.co/3ancslK 
Mediterranean shipwrecks reveal 'birth of globalisation' in trade
Preserved cargoes of vessels linking eastern cultures with western Europe show 'the barbarian Orient' was a trendsetter
theguardian.com
https://www.unexplained-mysteries.com/news/336505/fleet-of-shipwrecks-found-in-the-mediterranean
Thanks to: https://www.unexplained-mysteries.com