Firms compete to build next-gen lunar lander
Posted on Saturday, 2 May, 2020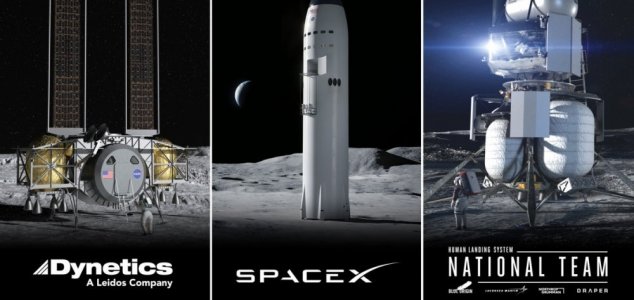 The three competing spacecraft designs. Image Credit: NASA
Blue Origin, SpaceX and Dynetics are each working on their own solutions to landing humans on the Moon.
NASA doesn't seem to be letting the coronavirus pandemic get in the way of its lunar ambitions, as evidenced by the fact that the space agency is pushing ahead with plans to develop a new human landing system with the goal of launching a manned mission to the Moon within the next four years.
To this end, on Thursday NASA awarded contracts to three commercial teams - Blue Origin, SpaceX and Dynetics - that will each share a total of $967 million in funding to develop their own solutions.
Over the next ten months, these private firms will work on a concept for a manned transportation vehicle capable of carrying astronauts to the Moon, landing on the surface and returning to Earth.
SpaceX will be doubling down on its proposed Starship deep-space transportation system - a reusable 50-meter tall spacecraft capable of carrying up to 100 people at a time.
Dynetics, meanwhile, is opting for a more modest two-person lander, while Blue Origin - which is working together with Lockheed Martin, Northrop Grumman and Draper - will produce a more traditional multi-stage system with separate ascent, descent and transfer elements.
Whichever solution NASA ultimately selects will go on to carry the first astronauts to the Moon.
If the mission succeeds, it will be the first manned lunar landing in more than 50 years.
https://youtu.be/dlHJAKIaALg
https://www.unexplained-mysteries.com/news/336740/firms-compete-to-build-next-gen-lunar-lander
Thanks to: https://www.unexplained-mysteries.com