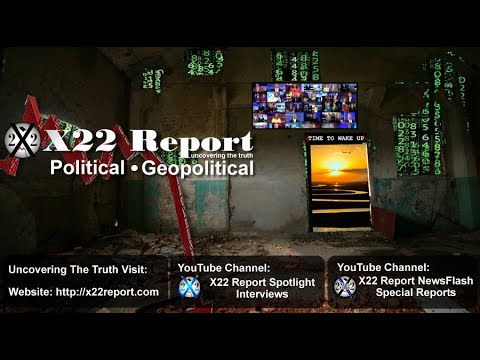 Time to Wake Up, Flynn Exonerated, Pain
This is the moment we've been waiting for! The DECLAS has begun, starting with Acting DNI, Ric Grenell's declassification and release of 53 transcripts on Thursday of the House Intel Committee's Russia probe interviews. Later in the evening, Grenell was seen carrying a satchel to the DOJ with a second set of documents to be released today!
Grenell had previously prodded Adam Schiff to release these, who instead released cherry-picked, redacted documents, so Grenell decided to go over his head. These Russia probe documents are expected to reveal that Schiff and other investigators have long known there was no "Russia collusion", even as Schiff continued to tweet on Thursday that there was.
Yesterday started with the abrupt withdrawal of Brandon Van Grack, the prosecutor from the case against Gen. Michael Flynn. Of Van Grack, Flynn's lawyer, Sidney Powell had written that he "has suppressed evidence from the formation of the 'Special Counsel Investigation' and likely even prior to it — for the very purpose of putting Mr Flynn in the unjust position he now occupies while protecting the prosecutors, his team, and the cadre of malfeasant FBI agents from the discovery of their negligence, crimes, and wrongs."
Van Grack's withdrawal from the case was immediately followed by the DOJ's motion to dismiss the charges against Flynn. There was a need for damage control with the release of Van Grack's suppressed evidence. Undercover Huber tweeted that the case's dismissal means there will be no trial, "So no Strzok, Comey, McCabe, Yates or Pientka on the witness stand. No pre-trial discovery. No extensive press coverage leading up to and during the trial. No 'not guilty' verdict."
Then Lindsey Graham came out, saying that all of this means there had been no legal justification for the appointment of Mueller as Special Counsel in the first place. As Dave from the X22 Report says here, "If there was no justification for the Mueller appointment, there was no case, no basis for it. Everything that Mueller did is null and void."
Not only was Flynn just exonerated, "everything with Manafort, with Stone, everything that you saw happen: null and void. The impeachment that they had: null and void…there was nothing there. This is why they don't want to release the information."
https://youtu.be/XiabOA0L4GQ
https://forbiddenknowledgetv.net/time-to-wake-up-flynn-exonerated-pain/
Thanks to: https://forbiddenknowledgetv.net