Spectacular 'lucky' image of Jupiter revealed
Posted on Sunday, 10 May, 2020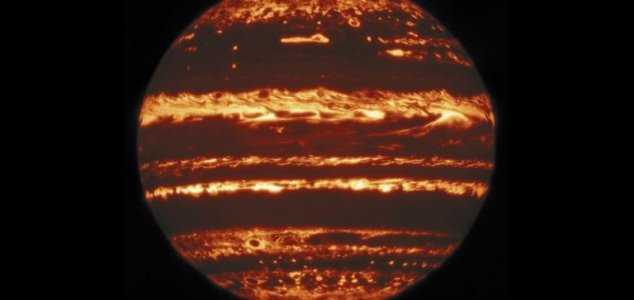 The image is particularly impressive. Image Credit: Gemini Observatory / M.H. Wong et al
A stunning new image of the solar system's largest planet was put together from hundreds of shots.
Resembling a huge smouldering fireball against the blackness of space, Jupiter's appearance in this newly released image is as unusual as it is breathtaking - a stark reminder of the beauty and grandeur of a planet that dwarfs our own - a world shrouded in thick cloud cover and apocalyptic storms.
Incredibly, despite the clarity of the image, it wasn't taken from a space-based telescope at all but from the Earth's surface using the Gemini North Telescope in Hawaii.
To produce it, astronomers used a technique known as 'lucky imaging' which involved capturing hundreds of short-exposure images of each area of Jupiter, then filtering out those negatively impacted by atmospheric turbulence so that only the clearest shots remain.
These were then combined to form a super high-quality mosaic of the entire planet.
In this particular example, the gas giant has been photographed in the infrared part of the spectrum.
"These images rival the view from space," said astronomer and study leader Michael Wong.
Source: Gizmodo

https://www.unexplained-mysteries.com/news/336431/spectacular-lucky-image-of-jupiter-revealed
Thanks to: https://www.unexplained-mysteries.com