X-37B set to launch on new mystery mission
Posted on Saturday, 9 May, 2020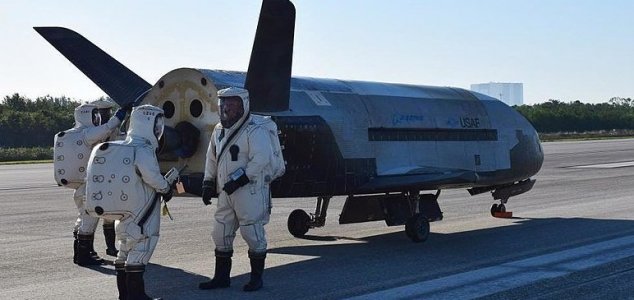 The X-37B and its activities have long remained a topic of intrigue. Image Credit: US Air Force
The US military's secretive space plane is due to launch on May 16th with a cargo full of experiments.
The notoriously enigmatic vehicle, which looks a bit like a miniature version of NASA's retired Space Shuttles, was originally designed to repair satellites before NASA discontinued the project and passed it over to the US Department of Defense 16 years ago.
Since then, it has launched on a series of increasingly lengthy missions - the most recent lasting a record-breaking 780 days - during which it has been reportedly testing 'experimental technologies'.
Now for its upcoming sixth flight, it has been revealed that the X-37B will be carrying more experiments than ever before.
One of these, which has been designed by NASA, will examine the effects of space radiation on seeds, while another, which has been designed by the US Naval Research Laboratory, will "transform solar power into radio-frequency microwave energy."
It will also deploy FalconSat-8 - a satellite developed by the US Air Force Academy.
The mission, which will launch on May 16th, has been named OTV-6 (Orbital Test Vehicle-6).
"The X-37B team continues to exemplify the kind of lean, agile and forward-leaning technology development we need as a nation in the space domain," said US Space Force Chief of Space Operations Gen. Jay Raymond.
"Each launch represents a significant milestone and advancement in terms of how we build, test and deploy space capabilities in a rapid and responsive manner."
Source: Space.com |
https://www.unexplained-mysteries.com/news/336888/x-37b-set-to-launch-on-new-mystery-mission
Thanks to: https://www.unexplained-mysteries.com