Will the Supreme Court return eastern Oklahoma to the Five Tribes?
Posted on May 12, 2020
May 8, 2020 12:25 PM CDT  By Albert Bender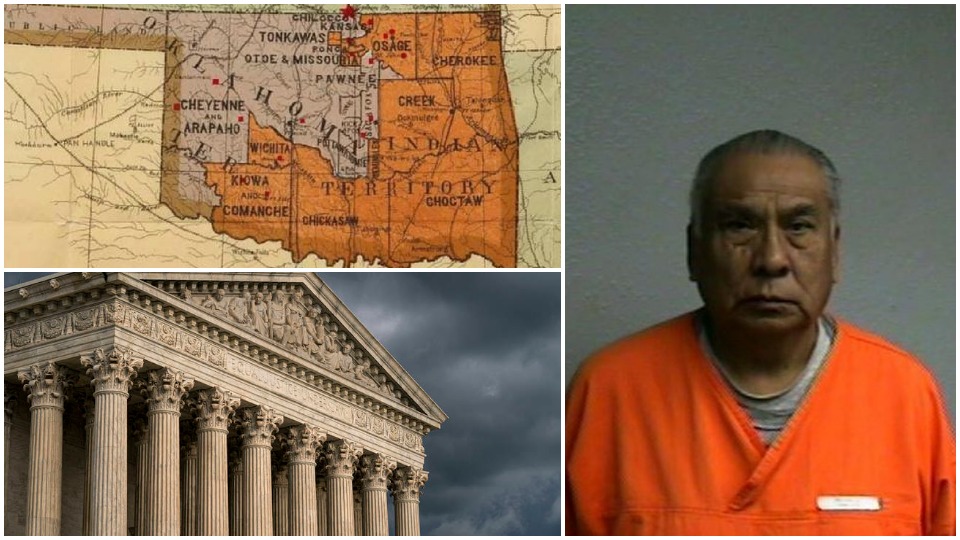 Jimcy McGirt's case before the Supreme Court could determine whether eastern Oklahoma is still reservation land or not. | AP and Public Domain photos
The case of
McGirt v. Oklahoma
sits at the top of the Supreme Court docket as the Indian law case that will decide the issue of whether eastern Oklahoma will be returned to reservation status. Oral arguments in this matter had been scheduled for April 21, but the Supreme Court delayed the hearing to June due to COVID-19, but has now announced
McGirt
will be heard on May 11, 2020, presumably by teleconference.
This issue began with what is now known as the case of
Sharp v. Murphy
. This cause of action was previously known as
Carpenter v. Murphy
and
Royal v. Murphy
to reflect that this case has been pending through three different wardens in the Oklahoma penal system.
Some minimal background in this matter is helpful for the uninformed. The petitioner who originally raised this issue was Patrick Wayne Murphy, an enrolled member of the Muscogee Creek Nation (MCN) of Oklahoma, convicted of murder in Oklahoma state court in 2000.
Indian Country had been waiting on the U.S. Supreme Court to reach a decision in the case of 
Sharp v. Murphy
. The Court, if ruling according to firmly established precedent, would have to return three million acres of eastern Oklahoma to the Muscogee Creek Nation, and as a monumental ripple effect would result in the return of an additional 16 million acres to the other four southern nations—the Cherokee, Choctaw, Chickasaw, and Seminole—forcibly removed, in the 19th century, from their ancient homelands.
These nations, collectively and historically called the Five Civilized Tribes (a term of colonial European origin, unpleasant because of its implicit racism, better replaced by Five Tribes or Five Southern Tribes) are sovereign governmental entities with outstanding political impact […]
Via https://www.peoplesworld.org/article/will-the-supreme-court-return-eastern-oklahoma-to-the-five-tribes/
https://stuartbramhall.wordpress.com/2020/05/12/will-the-supreme-court-return-eastern-oklahoma-to-the-five-tribes/
Thanks to: https://stuartbramhall.wordpress.com