Virgin Orbit debut rocket launch ends in failure
Posted on Tuesday, 26 May, 2020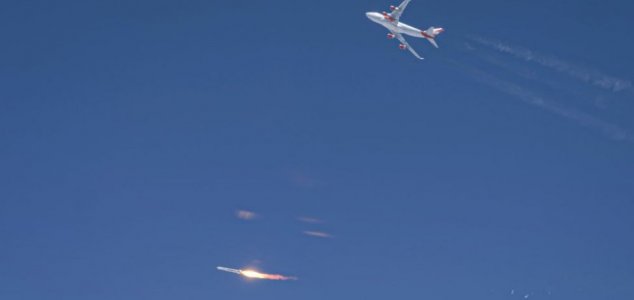 The rocket was successfully released by the plane. Image Credit: Twitter / Virgin Orbit
Sir Richard Branson's new satellite launching company didn't have much luck with its debut flight yesterday.
Running parallel to Virgin Galactic's space tourism endeavours, Virgin Orbit aims to capitalize on the rapidly increasing demand for low-cost satellite launches into Earth's orbit.
To achieve this, the company has developed a special air-launched rocket that is carried up to 35,000ft by a modified Boeing 747 airliner before being released.
Yesterday's test flight saw the rocket, which is known as LauncherOne, successfully achieve stability before igniting its NewtonThree engine to begin propelling it up towards the edge of space.
Unfortunately however things didn't go quite to plan and the rocket failed to gain much altitude.
"LauncherOne maintained stability after release, and we ignited our first-stage engine, NewtonThree," the company wrote. "An anomaly then occurred early in first-stage flight."
"We'll learn more as our engineers analyse the mountain of data we collected today."
Debut test flights tend to have a poor success rate, meaning that the rocket's failure wasn't particularly unexpected. Still, the firm will be keen to figure out what went wrong and set things up for another test.
"Test flights are instrumented to yield data and we now have a treasure trove of that," said CEO Dan Hart. "We accomplished many of the goals we set for ourselves, though not as many as we would have liked. Nevertheless, we took a big step forward today."
"Our engineers are already poring through the data. Our next rocket is waiting. We will learn, adjust, and begin preparing for our next test, which is coming up soon."
Source: BBC News

Thanks to: https://www.unexplained-mysteries.com