Oldest and largest Mayan structure discovered
Posted on Friday, 5 June, 2020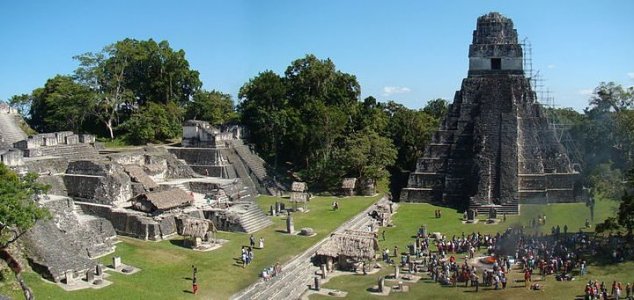 Mayan structures at Tikal (file photo). Image Credit: CC BY-SA 3.0 Bjorn Christian Torrissen
Researchers have identified a gigantic Mayan ceremonial platform in Mexico dating back 3,000 years.
The 50ft high platform, which is located near the San Pedro River in Mexico's Tabasco state, stretches for over a mile - making it one of the most significant Mayan structures ever discovered.
It was found using a technology known as LIDAR ( light detection and ranging ) which involves firing lasers from an aircraft to build up a picture of what lies beneath dense jungle foliage.
According to Arizona archaeologist Takeshi Inomata, who led the discovery, the platform would have most likely been used to conduct large-scale ceremonies and gatherings.
"This was a big construction before the social hierarchy," he said.
"The really interesting implication is what this site tells us about the potential of human collaboration, which can do really amazing things without the presence of a centralized government."
Low-resolution scans had previously detected the presence of smaller buildings at the site, however it wasn't until high-resolution aerial scans were conducted that the huge structure was identified.
"It must be for rituals or ceremonies," said Inomata.
"It's a big, wide space, so it's a place of gathering for many people."
 NBC News  
 @NBCNews
Airborne laser scanners have revealed what may be the oldest and largest ancient Mayan structure ever found, according to new research. https://nbcnews.to/3cvf3Lw 
Mayans built massive structures thousands of years ago. Researchers found the biggest one yet.
Researchers think the 3,000-year-old platform was built as a communal effort and may have led to the emergence of Mayan elites.
nbcnews.com
https://www.unexplained-mysteries.com/news/337375/oldest-and-largest-mayan-structure-discovered
Thanks to: https://www.unexplained-mysteries.com