New Loch Ness Monster photographs emerge
Posted on Tuesday, 23 June, 2020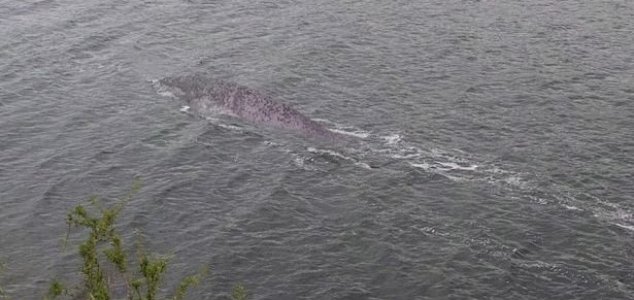 Is this a fish, a hoax or something else ? Image Credit: Steve Challice
A series of images showing some sort of creature emerging from the loch have recently appeared online.
The images were captured by Southampton resident Steve Challice who had been on holiday in Scotland last September with his brother when they visited Urquhart Castle.
While taking photographs of the opposite side of the loch, Steve noticed what he described as a "ripple in the water" before witnessing a creature emerging nearby.
"I started taking a couple of shots and then this big fish came to the surface and then went back down again," he said. "It only appeared in one shot and to be honest that was something of a fluke. I watched for a while as you can see from the last picture but didn't see it again."
Although he believes that the creature was more likely to be a large catfish or seal, the images - and in particular the one above - have sparked a lot of debate online with many believing this to be evidence of the fabled Loch Ness Monster. 
Others however, including Roland Watson of the
Loch Ness Mystery
blog, remain unconvinced, with skeptics arguing that the image has most likely been Photoshopped due to the color saturation and the presence of blurring where the creature's body meets the water.
"I have to say I don't believe in the Loch Ness Monster and frankly I think if anything is there then there is a logical explanation for most of the sightings," said Steve.
"My guess would be that what I captured was a catfish or something like that."
A detailed analysis, as well as before and after shots, can be found on the Loch Ness Mystery blog.
Source: Daily Record

https://www.unexplained-mysteries.com/news/337763/new-loch-ness-monster-photographs-emerge
Thanks to: https://www.unexplained-mysteries.com