Steam-powered bot could explore icy moons
Posted on Saturday, 27 June, 2020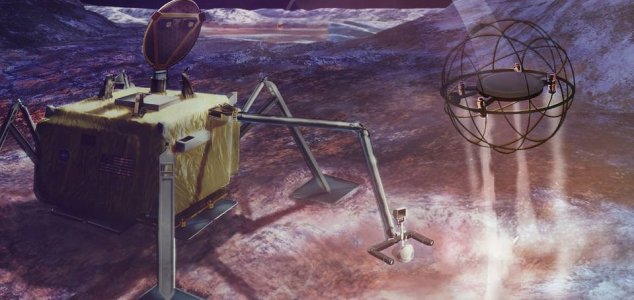 An artist's impression of SPARROW in action. Image Credit: NASA/JPL-Caltech
Scientists have conceived of a steam-powered robotic hopper bot that could explore Europa and Enceladus.
While the icy moons of Jupiter and Saturn remain some of the most tantalising destinations in the solar system to explore with robotic landers, the potentially chaotic surface landscapes of these worlds would make a conventional wheeled rover more or less useless.
Now in a renewed bid to find a viable alternative, scientists have come up with a novel new robot concept known as SPARROW (Steam Propelled Autonomous Retrieval Robot for Ocean Worlds.)
The robot features a protective spherical 'cage' capable of freely rotating, self-righting and tumbling around across the most uneven of surfaces. 
To propel itself, the robot could collect and heat up ice, using the steam to 'hop' into the air.
Scientists also envisage that SPARROW would have an accompanying lander that it could return to whenever it needed to refuel or to drop off samples it might have collected during its travels.
Its operators would need to be careful though, because if the robot happened to roll down a steep incline or into a crevasse, there's no way it would be able to get back out again.
You can check out a concept video for SPARROW below.
https://youtu.be/nkimUw3GqLQ
https://www.unexplained-mysteries.com/news/337824/steam-powered-bot-could-explore-icy-moons
Thanks to: https://www.unexplained-mysteries.com