'Glitch in the Matrix' as plane hovers motionless
Posted on Tuesday, 30 June, 2020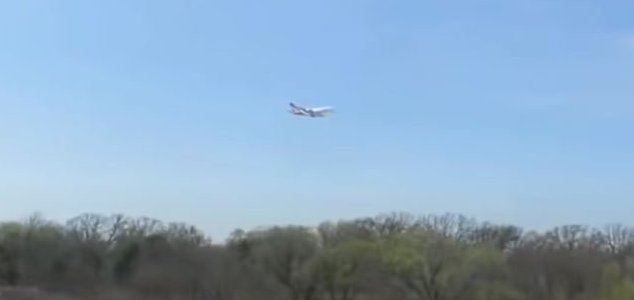 Is this plane really sitting stationary in the air ? Image Credit: YouTube / Mui Rick
Intriguing footage shows an airliner seemingly hovering motionless in the air - but is it just an optical illusion?
This peculiar video was filmed from a moving vehicle and shows what appears to be an airplane hovering just above some nearby trees.
"That plane looks like it's just hovering," the man behind the camera can be heard saying. "Looks like a big one as well. Look at it - for real - it just looks like it's just hovering there."
As the video continues, he winds down his car window to get a clearer look at the plane.
Sure enough, the airliner doesn't appear to be moving, but is it really hovering motionless in the sky or could the peculiar spectacle be little more than an optical illusion ?
"That plane is just flying into a really strong headwind," one user wrote. "It's still getting enough air under it's wings to generate lift, but I'm guessing the pilots just don't wanna give the engines more throttle because they're trying to land."
So while the plane probably is still moving, from the perspective of the moving car, its forward motion is so slight that it creates the illusion that it is sitting still.
One way or the other, it's certainly an interesting effect.
https://youtu.be/GmUB75Nz4x0
https://www.unexplained-mysteries.com/news/337883/glitch-in-the-matrix-as-plane-hovers-motionless
Thanks to: https://www.unexplained-mysteries.com