'Proteus' is world's first uncuttable material
Posted on Wednesday, 22 July, 2020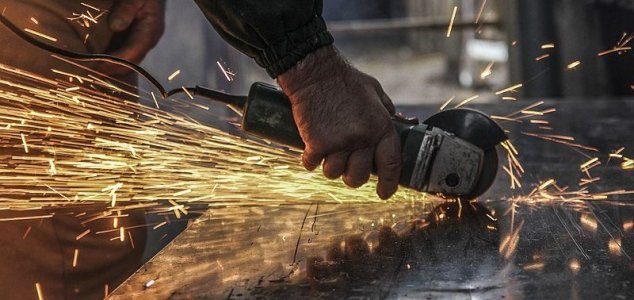 An angle grinder is useless against the new material. Image Credit: CC BY 4.0 Lacholazarovphotos
Scientists have developed a lightweight material that is said to be impervious to all forms of cutting.
Developed by researchers at England's Durham University and Germany's Fraunhofer Institute, this novel new material has only 15% the density of steel yet is impervious to cutting tools.
It is comprised of a special aluminium matrix embedded with ceramic spheres which together serve to turn any cutting tool back against itself, dulling the blade or drill bit and rendering it useless.
The way this works is that when the cutting blade penetrates the material, the resonance produced by it hitting the ceramics causes it to start bouncing, which damages and dulls the blade.
Even if the ceramic does get cut in to, the fine dust produced fills in the gap, making the material even harder for the tool to penetrate. 
"The force and energy of the disc or the drill is turned back on itself, and it is weakened and destroyed by its own attack," said Stefan Szyniszewski from Durham University.
"Essentially cutting our material is like cutting through a jelly filled with nuggets."
It is hoped that the new material could prove invaluable in a number of fields and would be ideal for creating uncuttable locks as well as protective equipment for tool operators.
Source: Techpost

https://www.unexplained-mysteries.com/news/338281/proteus-is-worlds-first-uncuttable-material
Thanks to: https://www.unexplained-mysteries.com