NASA's new Mars rover successfully launches
Posted on Thursday, 30 July, 2020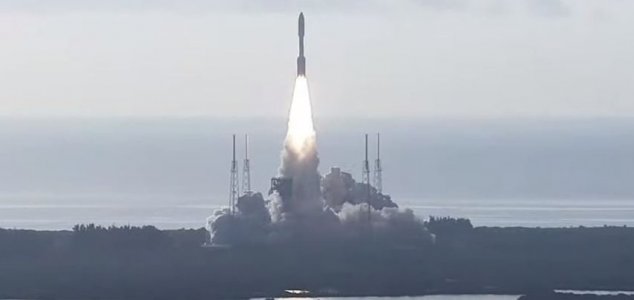 The launch went very smoothly. Image Credit: NASA
The ambitious new rover, which will look for signs of life on Mars, is now on its way to the Red Planet.
As the sun rose over Cape Canaveral Air Force Station in Florida this morning, the Perseverance rover - which sat atop an Atlas V rocket - soared into the heavens in spectacular fashion.
After a journey spanning almost 300 million miles, it will touch down on Mars in February of next year.
Intended as a follow-up to the space agency's long-lived Curiosity rover which has been trundling around on Mars since 2012, Perseverance looks very similar to its predecessor. 
Inside however, it has been equipped with several new additions including a helicopter drone and new scientific instruments designed to search for evidence that Mars was habitable in the distant past.
The rover will also be tasked with collecting samples of soil and leaving them in special caches for a future rover to come and retrieve as part of an ambitious sample-return mission.
Once it reaches Mars we can expect to see a plethora of photographs from its array of 23 cameras and even audio samples, as it has also been equipped with microphones.
"We hope to capture some of the sounds of entry, descent and landing; and some of the sounds of driving around, merging that with the video we can take," said Perseverance team member Jim Bell.
You can check out the full launch broadcast below (for the actual launch skip to 48:00).
https://youtu.be/JIB3JbIIbPU
https://www.unexplained-mysteries.com/news/338506/nasas-new-mars-rover-successfully-launches
Thanks to: https://www.unexplained-mysteries.com